| | | |
| --- | --- | --- |
| Pres. | Senate to Dems* | Senate to GOP |
| Democratic: | 43.3% probability | 56.7% probability |
| Republican: | 5.6% probability | 94.5% probability |
| | Mean of 49 seats | Mean of 51 seats |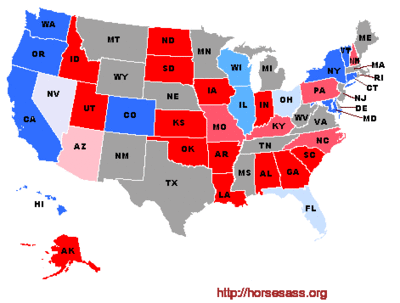 It is way too early to make much of anything out of the 2016 Senate head-to-head polls. After all, we still have a primary season to go before we know who will be on the ballot. Still…there is just enough polling to give us an "early-first-quarter score" in the Senate races.
Currently, the Senate is controlled by Republicans, who hold 54 seats. Democrats hold 45 seats, plus Maine's Sen. Angus King caucuses with the Democrats. In 2016, there will be 34 senatorial elections, all of the Senate's "third class." (There could be additional special elections as well, but I am not aware of any right now.) The current crop of Senators were elected in 2010, a Republican wave off-year election. Six years later, Republicans find themselves with 24 seats to defend and Democrats with 10 seats to defend, in a presidential election year.
I've spent a bit of time trying to divine the candidates most likely to appear on the ballot. In some cases, it was easy. Rand Paul will appear as the G.O.P. nominee in the Kentucky race. (You know…assuming his struggling presidential campaign continues its current trajectory.) Incumbents tend to get their party's nomination, although there are retirements, like Sen. Harry Reid (D-NV). In some states, front-runners are obvious, like in Wisconsin where incumbent Sen. Ron Johnson (R) will almost certainly go up against former Sen. Russ Feingold (D). When there are multiple candidates, I've tried to use primary polls, newspaper accounts, FEC numbers, and other sources to find the strongest or most likely candidate to advance to the general. You can see which candidates I've advanced to the general by looking at the polls page.
I've found state head-to-head polls in 15 races and no polls for 19 races. Polled states tend to be the ones with the most competitive Senate races OR states with some other importance. For example, there are many polls in Iowa and New Hampshire, which are the early caucus/primary states. I've found a total of 69 polls to date, so clearly there are multiple polls for many of the 15 races. States without polling are assumed to go to the party currently holding the seat.
After 100,000 simulated elections, Democrats have a Senate majority 5,553 times, there were 37,718 ties, and Republicans have a Senate majority 56,729 times. In the event of a 50 seat tie, the President's party controls (U.S. Constitution, Article I, Section 3). If Sec. Hillary Clinton wins, Democrats have a 43.3% probability of controlling the Senate and Republicans have a 56.7% probability of controlling the Senate. If Clinton loses, Republicans would almost certainly (94.5% probability) maintain control of the Senate.
The good news for Democrats is that they are likely to gain 4 seats and have a good shot of taking control if they win the presidential election. The good news for Republicans is that they are still more likely than not to control the Senate. They can either lose 4 or fewer seats or lose 5 seats plus win the presidential election.
Let's examine a few of the races.