Darryl at Hominid Views takes a break from his family vacation to report on the partial collapse of the Dunn Memorial Bridge in upstate New York.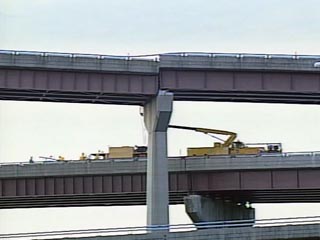 As Darryl points out…
The relevance to the Seattle area is obvious. The Dunn Memorial Bridge was built in 1971; the Alaska Way Viaduct (AWV) was built in the late 1950s. Dunn was inspected a couple of years ago and rated a 5 out of 7 for safety. The AWV has had widely recognized safety problems since the Nisqually earthquake of 2001.
No one was injured or killed, but had the top deck collapsed entirely, it could have taken two other levels with it to the bottom of the Hudson river, with catastrophic consequences for people on the bridge, and the economy of the region. As it is, there are no estimates of when the bridge will reopen.
Will Seattle be so lucky when (not, if) the AWV fails? Let's hope so, because the Viaduct is a double-decker structure, a collapse of one section could result in a chain reaction, leading to the deaths of hundreds of people. Even a partial collapse similar to that in Albany would result in traffic mayhem in Seattle. Interstate 5 would pick up the majority of the 100,000 plus vehicles that use the roadway on a daily basis, contributing to what is already one of the worse traffic problems in the nation.
Of course, I-912 would repeal funds for replacing the AWV, as well as dozens of other projects throughout the state intended to fix unsafe intersections, interchanges and other sections of roads with a history of accidents and fatalities. But even if we dodge the bullet of a catastrophic AWV collapse….
People will die if I912 passes