Valerie Plame was outed as a CIA operative in retaliation for her husband publicly debunking the Bush administration lie that Iraq had attempted to obtain "yellow cake" uranium from Niger. But there's another scandal involving Niger that has been getting much less press… the famine striking 2.5 million people, and the 150,000 children who could starve to death as a result.
Of course, droughts and locust plagues happen, so it's not the famine that is the scandal, but rather the failure of the rest of the world to respond to it in a timely fashion. According to Jan Egeland, a top UN aid official, this tragedy was widely expected and months in the making, yet the international community acted slowly, if at all.
"Niger is the example of a neglected emergency, where early warnings went unheeded," Mr Egeland told the BBC.
…
"The world wakes up when we see images on the TV and when we see children dying."
Well, if pictures of starving children in Niger are what it takes to get the world's attention, here you go: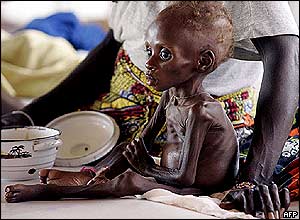 I'm not sure what to do about this tragedy, but Doctors Without Borders has volunteers on the ground, and is taking donations.