WAPO's Chris Cillizza reports from Yearly Kos, where longtime Democratic pollster Stan Greenberg had some advice for the assembled progressive bloggers:
Think big. As in, big gains for Democrats in both the House and the Senate in 2008. "Do not think conservatively," said Greenberg during a panel discussion on the impact of Iraq on polling and the coming election. "The idea of a 50-seat-plus majority is real."

Greenberg wasn't the only Democratic strategist predicting huge gains. Tom Mattzie, Washington director of MoveOn.org, insisted that a path existed to a 60-seat majority in the Senate after the 2008 election.

Why the rosy predictions?

Because the 2006 election in which Democrats regained majorities in the House and Senate was a "small point along the way," according to Greenberg, and the data continues to suggest that the political environment is worsening almost daily for Republicans.
In making the case for Rodney Tom, he and his surrogates routinely dismiss Darcy Burner's '08 prospects. "She had her run," state Rep. Chris Hurst smugly told the Seattle P-I, complaining that she "came up short … in what was probably the best year in 40 years to run as a Democrat." The intended message to Democratic primary voters is two-fold: 1) Burner only did as well as she did because of unusual national trends; and 2) those trends won't be present in 2008.
Yeah, um, that's right… Burner went from complete unknown to within inches of victory, simply by riding the Democratic tide. It had absolutely nothing to do with her smart campaign, her relentless hard work, and a force of personality that won over hundreds of passionate grassroots volunteers. I could write dissertations refuting premise number one, but suffice it to say that it is just plain insulting, and I'm not so sure that Tom, Hurst and their buddies would derisively dis Burner like that if she wasn't, you know, a girl.
But premise number 2 — the heart of the Tom campaign's critique of Burner — is just flat out refuted by the numbers. Indeed, Greenberg's polling data suggests a steadily deteriorating political climate for Reichert and his House colleagues: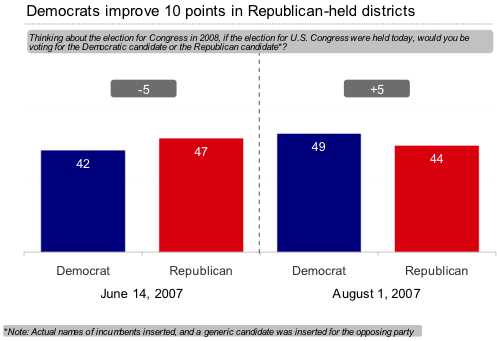 The Republicans are in trouble – almost as much trouble as they were in 2006. Democrats are not only ahead in the most competitive Republican districts (Tier 1), but they also lead by 3 points in the second tier, less competitive Republican seats, which means there might well be additional Congressional seats at risk beyond the 35. The extent of Republicans' vulnerabilities suggests that Democrats can take their advantage far into Republican territory in 2008. This pattern that allowed the Democrats to take 30 seats in the last mid-term election could well take Democrats up to 20 in the Presidential, unless confounded by intervening events. There really could be another wave election.

Unlike the Democratic incumbents, Republican members in competitive districts face a range of trends that are working against them, reflected in their deteriorating margin – a 10-point net swing against them since mid-June.
Tom and his boosters imply that Darcy blew it, repeating over and over again that the coming election will be nothing like the previous one, as if that were a fact. But if Tom and Hurst et al are such geniuses at predicting Democratic waves — or the absence thereof — why didn't any of them run in 2006? By January of last year it had already become obvious to amateurs like me that something BIG was potentially coming in November, yet the DCCC failed to recruit a single experienced candidate to challenge the one-term Reichert.
Compare that to this cycle, with both Tom and Hurst drooling to get into the race after state Rep. Ross Hunter's ill health knocked him out. If 2008 is gonna be such a tough year for Democrats, why were so many formerly timid Democrats suddenly so anxious to get into the race?
Because they know Reichert is vulnerable. Burner proved it. And now they just want to brush her aside in a cycle they assume will be very good for Democrats indeed.