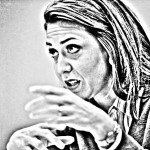 Freshman Rep. Jamie Herrera Beutler (R-WA-3) got a little attention today from the national press. And, um…it wasn't exactly a profile in political courage.
The original story comes from The Columbian (my emphasis):
Who should be informed of the opportunity to meet with their elected officials? Who decides how that should happen? According to U.S. Rep. Jaime Herrera Beutler, R-Camas, she does.
[…]

On Friday The Chronicle in Centralia received a phone call from Herrera Beutler staffer and Communications Director Casey Bowman informing the newspaper of the meeting. Bowman asked that a meeting announcement not be placed in the paper. However, he did invite the paper to cover the event.

The Chronicle refused his request and published an announcement in Saturday's paper.

The reason for not publishing an advance notice of the meeting was the fear that people from outside the immediate area could come and "just yell" at the congresswoman "whatever's on their minds," Bowman said Friday.
Perhaps Herrera Beutler can get together with Rep. Dave Reichert (R-WA-8) and charter a G.O.P. Coward's Club.