Public Policy Polling (PPP) released a new Washington state poll today that covers the gubernatorial race between Rep. Jay Inslee (D-WA-01) and A.G. Rob McKenna (R). The poll surveyed 1,264 Washington voters (MOE 2.76%) from Feb. 16th to the 19th.
The poll finds Inslee and McKenna tied at 42% each, with 16% undecided.
With a tied result, I won't even bother with a Monte Carlo analysis…each candidate would win about half the simulated elections.
The tie is quite a change from two recent polls. A SurveyUSA poll taken from Feb. 13th to the 16th had McKenna leading Inslee, 49% to 39%. And shortly before that, a Elway poll taken from Feb. 7th to the 9th had McKenna leading Inslee 45% to 36%.
The SurveyUSA poll and the new PPP poll cover a continuous range of dates, from Feb 13th to the 19th, lets pool the results of the two polls and do a Monte Carlo analysis. After a million simulated elections using the two polls, Inslee wins 150,944 times and McKenna wins 845,007 times. In other words, an election held now would result in a win for McKenna with a probability of 84.8% and a win for Inslee with a 15.2% probability.
Here is the distribution of outcomes from the simulated elections: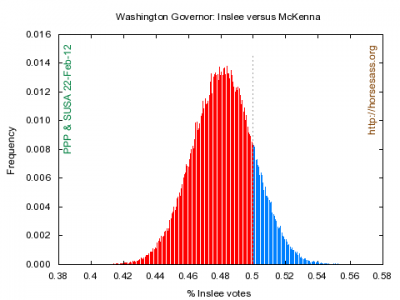 The cross-tabs in the PPP poll suggest that Inslee may have a little more to gain from the undecided vote. McKenna's has captured much of his base, with fewer undecideds among groups that tend to support him. Inslee's support seems less solid, but that means he has more potential to win over undecideds. A positive sign for McKena is the Independents, who go for him over Inslee, 43% to 31% with a non-trivial number of undecideds.
There were a few of other interesting items polled.
Initiative 502, that would regulate, tax, and legalize marijuana is up 47% to 39% with 15% undecided.
Finally, a question over marriage equality found:
46% — Gay couples should be allowed to legally marry
32% — Gay couples should be allowed to form civil unions but not marry
20% — There should be no legal recognition of a gay couple's relationship
2% — Not sure
In the race for A.G., King County councilmember Reagan Dunn (R) leads King County councilmember Bob Ferguson, 34% to 32% with 34% undediced. The previous poll in this race, a September SurveyUSA poll, had Ferguson at 39%, Dunn at 34% and 26% undecided.