Another poll in Washington state gives us another sign that Washington state will have a Republican Governor come 2013.
Today SurveyUSA released a new poll that covers the gubernatorial race and some presidential match-ups in the state. The poll surveyed 572 registered Washington voters (MOE 4.2%) from 13 Feb. to 16 Feb. The survey used a mix of home phone and cell phone respondents.
First the presidential match-ups:
Obama v. Romney: 50% to 39% (+11%)
Obama v. Paul: 50% to 37% (+13%)
Obama v. Santorum: 51% to 38% (+13%)
Obama v. Gingrich: 56% to 34% (+22%)
Man, 22%! Gingrich sure has has some debilitating negatives!
In the gubernatorial race, A.G. Rob McKenna (R) leads Rep. Jay Inslee (D-WA-1) by 49% to 39% (+10).
A Monte Carlo analysis [FAQ] using a million simulated elections finds Inslee winning 34,472 times to McKenna's 962,998 wins. This suggests that, in an election held now, McKenna would have a 96.5% probability of winning; Inslee, a 3.5% probability. Here is the distribution of electoral votes from the simulated elections: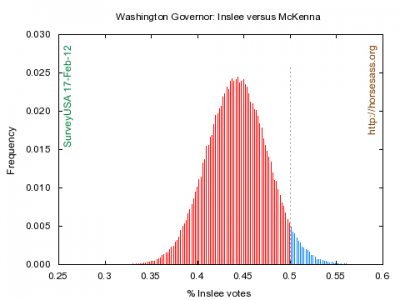 The poll result is very similar to an Elway poll taken from 7 Feb. to 9 Feb. If we pool the samples from both of these polls and do the Monte Carlo analysis we find Inslee winning only 10,720 times to McKenna's 988,657 wins. The evidence suggests that, at this point, McKenna would win with a 98.9% probability: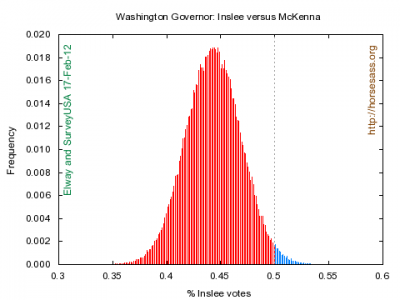 Denial is not an option for Inslee supporters. While there is plenty of time to turn it around, Inslee is definitely the underdog at this point in the race.
The most recent analysis for the Inslee—McKenna race can be found here.