Yesterday a new Survey USA poll (for KING 5) was released in the Washington state gubernatorial race. The poll of 524 likely voters (4.4 MOE), based on a mixed land line and cell phone sample, was taken from the 7th to the 9th of this month.
The poll shows Inslee leading McKenna by 49% to 44%.
A Monte Carlo analysis using a million simulated elections based on this polling finds that, if the election was today, Inslee would have an 80% probability of winning. Here is the distribution of simulated outcomes: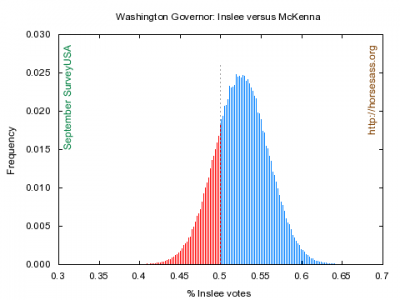 This is pretty good news for Jay Inslee and suggests that his campaign has "turned it around." McKenna led Inslee for most of the polling before July, but Inslee has now led in three consecutive polls: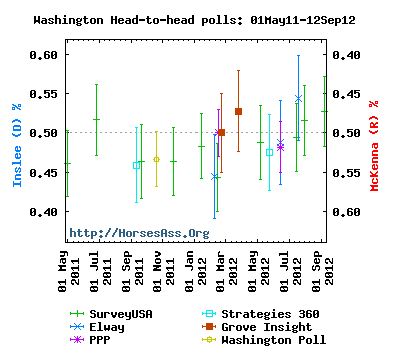 The previous poll, taken last month by Survey USA, had Inslee up by +3% points, and a 70% probability of winning then. We've had a primary since then. It is always risky to read too much into our top two primary results simply because the voting populations are different. Even so, the gubernatorial primary was practically a head-to-head election between McKenna and Inslee. Inslee received a +4% larger share of the votes than McKenna got.
There is one thing that stands out in the crosstabs. To the question, "Which candidate do you think is more likeable personally?" Inslee bests McKenna by 43% to 30%.
This race has been considered one of the most competitive gubernatorial races in the country. Maybe not so much anymore.
There are three other head-to-head races in the poll:
Senate race: Cantwell (D) leads Baumgartner (R), 54% to 38%.
Attorney General race: Fergusson (D) leads Dunn (R), 42% to 33%.
Presidential race: Obama (D) leads Romney (R), 54% to 38%.
And, finally, there were a few other ballot measures polled as well:
The referendum upholding the new gay marriage law looks passable at 56% in favor to 38% against.
The initiative for charter schools looks like a go at 52% for and 26% against.
Eyman's initiative that imposes a (likely) unconstitutional 2/3s majority for tax increases looks like a pass at 58% for to 21% against.
The pot initiative looks like a go at 57% in favor and 34% against.