A new Grove Insight poll of the gubernatorial race between Rep. Jay Inslee (D-WA-1) and Washington state AG Rob McKenna (R) shows Inslee with a +2% lead over McKenna. The poll surveyed 500 likely Washington voters (M.O.E. 4.4%) from the 26th to 28th of March.
Before doing my usual Monte Carlo analysis of the results, I want to point out that with this poll and the previous Grove Insight poll, I debated whether or not to analyze the results. One of my rules for polls is to, "ignore polls released by party organizations or candidates." The issue is that campaigns and party organizations commission polls all the time, but we rarely get to see the polling results. When they are released, there is a strategic reason. Therefore, including such polls can lead to a biased overall interpretation, even if the polls themselves are completely honest and accurate.
Both of the Grove Insight polls are, apparently, commissioned by the SEIU. Even though SEIU isn't part of the campaign or the Democratic party, SEIU has recently endorsed Inslee and they obviously share elements of their politics. I really don't know if Grove Insight would have released these results if they had been bad for Inslee. It is a close call, but I opted to go with publishing an analysis.
Of the 500 respondents, there were only 360 who had a preference for either Inslee or McKenna, so the effective margin of error is actually bigger than the 4.4% given in the release. A Monte Carlo analysis that held a million simulated elections gave Inslee a win 762,761 times and McKenna a win 225,707 times.
The analysis suggests that, if the election was today, Inslee would have a 77.2% probability of beating McKenna. Note that by statistical conventions we would call this a tie because the winning percentage doesn't exceed 95%. Here is the distribution of election outcomes resulting from the analysis: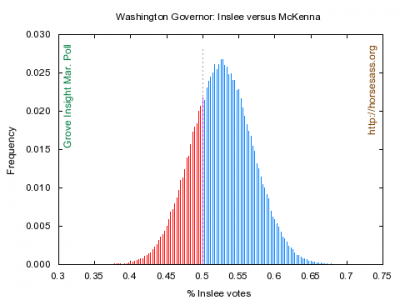 This makes three consecutive polls that contradict the narrative that McKenna is the front-runner: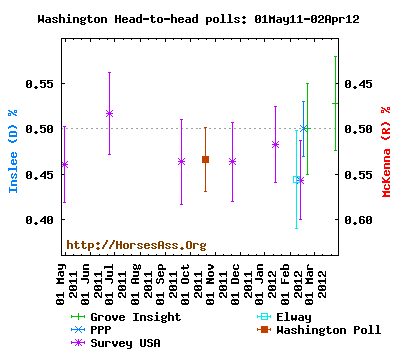 Although I want input from another poll or two, it is beginning to look like this race is flipping—gone from McKenna having a hefty lead, to a tie. If correct, it's pretty remarkable is how fast things have turned around….
[The most recent analysis in this race can be found here.]