It is a beautiful day in the Puget Sound region, so I don't know how many people will be around here this evening. In any case, Nevada caucus results should come in sometime after 5:00 pm.
I should be able to do some commentary.
Have at it in the comment thread.
4:43: Turnout seems to be down in at least one county:
The GOP presidential caucus attracted about 6,700 voters on Saturday [in Washoe County], down from the estimated 11,000 to 14,000 that showed up for the presidential caucus in 2008….
4:46: Live updates are supposed to be available at CNN. It isn't working for me yet.
4:51: The most recent poll in Nevada that I've found is this one from PPP:
Romney 50%
Gingrich 25%
Paul 15%
Santorum 8%
5:00: It's five and CNN is still just showing a scenery shot with no audio.
5:05: Here is the Nevada GOP web page.
5:06: With only Eureka County reporting results are (4% reporting):
Romney 34.3%
Gingrich 30.3%
Paul 18.2%
Santorum 17.2%
5:09: Pershing County weighs in. Both counties combined. Romney stretches his lead over Gingrich, and Paul slips behind Santorum.
Romney 41.7%
Gingrich 27.0%
Santorum 15.9%
Paul 15.5%
5:13: Now we have Churchill County. Romney strengthens his lead. Santorum spurts out ahead of Ron Paul.
Romney 45.9%
Gingrich 20.8%
Santorum 17.7%
Paul 15.5%
5:34: Nye and Mineral Counties report. Ron Paul surges ahead of Gingrich:
Romney 36.7%
Paul 29.6%
Gingrich 19.7%
Santorum 12.9%
5:44: Cool…I found the code to embed the results tool….

5:46: All the counties reporting so far are small potatoes. Romney won 5 of them, Paul takes 1 (Nye) and Gingrich takes 1 (Mineral). But the total number of precincts in these counties is small (89 of 1835). Washoe has 487 precincts and Clark has 1,073.
5:54: Clark county has a large Mormon population. They make up 16%, so about 220,000 LDS residents. Expect Romney to do well when Clark reports.
5:59: Gingrich, showing off his Republican bona fides, has a campaign debt of $600,000.
6:02: Esmeralda county goes for Ron Paul. It makes almost no difference–Santorum just gets a tiny surge. Current score:
Romney 36.8%
Paul 29.4%
Gingrich 20.3%
Santorum 13.4%
6:07: Jay Inslee just Tweeted:
On Monday I'm presenting my First Steps to Building a New Economy. Check back here, on FB, and my website then for details. #WaGov #WaLeg
6:09: Larry Sabato Tweets:
I see Santorum has dumped the sweater vest for a bolo tie in CO. Isn't this a flip-flop? Cue Romney ads.
We'll have to see if Carl Ballard takes up bolo ties now, too.
6:12: Lincoln county reports, goes 80 something percent for Romney. The county is 70% LDS, but has a tiny population.
6:24: While we wait to find out who takes 2nd, 3rd and 4th, let's look at the Obama—Romney polls in Nevada. Obama has been doing quite well in head-to-head match-ups, although Romney and totally leads in the most recent poll: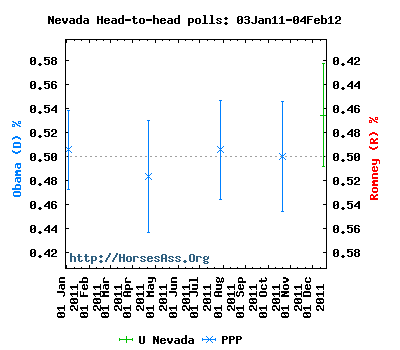 Here are the details:
| | Start | End | Sample | | % | % | % |
| --- | --- | --- | --- | --- | --- | --- | --- |
| Poll | date | date | size | MOE | Obama | Romney | Diff |
| U Nevada | 12-Dec-11 | 20-Dec-11 | 600 | 4.0 | 45.7 | 39.8 | O+5.9 |
| PPP | 20-Oct-11 | 23-Oct-11 | 500 | 4.4 | 46.0 | 46.0 | 0.0 |
| PPP | 28-Jul-11 | 31-Jul-11 | 601 | 4.0 | 47.0 | 46.0 | O+1.0 |
| PPP | 21-Apr-11 | 24-Apr-11 | 491 | 4.4 | 43.0 | 46.0 | R+3.0 |
| PPP | 03-Jan-11 | 05-Jan-11 | 932 | 3.2 | 47.0 | 46.0 | O+1.0 |
6:32: With Carson City reporting, Gingrich has taken back second place from Ron Paul. Santorum is still stuck at the bottom:
Romney 39.5%
Gingrich 25.1%
Paul 22.1%
Santorum 13.1%
6:35: Back to the poll discussion. Nevada was, essentially, a toss-up until the most recent poll. And that makes it lean toward Obama for the general election.
6:41: White Pine county weighs in. Not many precincts, but Romney pushes forward…Santorum is pushed further behind.
Romney 40.5%
Gingrich 24.9%
Paul 22.5%
Santorum 12.8%
6:47: Via KOMO: "Official: Dog starts Vancouver, Wash., house fire." Hmmm…was it an Irish Setter name Seamus, by any chance? I'm guessing he saw Mitt on TV and had a PTSD relapse. It was a suicide.
6:56: Man…it is sure taking awhile for the two big counties to report. I've got steaks to grill, dammit!
7:03: I'm makin' steaks. I'll be back for an 8:00 final result.
7:40: Washoe county—2nd largest in the state for precincts—has 15% reporting and Gingrich is up big time! If the results hold for the rest of the precincts (and they probably won't), there will be some drama. At least until Clark county reports.
8:00: All precincts are in except for Lyon and Clark counties and still only 15% in Washoe (oh…and some from Lander and Nye to come). In other words…still 83.4% that have yet to report.
8:02: The score with 16.6% reporting:
Romney 38.6%
Gingrich 27.2%
Paul 19.2%
Santorum 14.3%
8:23: The rest of Washoe dropped and we now have (with 39.1% of precincts reporting):
Romney 42.5%
Gingrich 26.1%
Paul 18.7%
Santorum 12.8%
8:27: Nye county just went 100% on us. Results are almost indistinguishable from 4 minutes ago.
8:33: Still nothing from Clark county (w/Las Vegas). Must still be busy taking bets on how they will vote….
8:35: There is NO truth to the rumors that the Las Vegas caucus goers got distracted by slot machines set up at each caucus location.
8:44: Man…Nevada Republicans are sure having a difficult time with their caucus (or at least counting the results). Some of the results have even been changing. On the other hand, at least they are reporting county-by-county results. Remember what a clusterfuck the Washington state G.O.P. caucus was in 2008?
8:55: The first data from Clark have come in (2.8%). Mitt on top, Santorum on bottom, with Ron Paul over Newt in the middle.
11:51pm: Huh…here it is almost tomorrow on the west coast and all we have is 5.8% of the results from Clark county. Only 44.9% of precincts have been reported. Not sure what the big delay is, but here is the bed-time total.
Romney 42.6%
Gingrich 26.0%
Paul 18.4%
Santorum 13.0%
Ciao!
---