I doubt the paper's emphasis will switch to covering Washington state, but the Washington Post is about to have a new Seattle-based owner. That would be Amazon.com founder Jeff Bezos.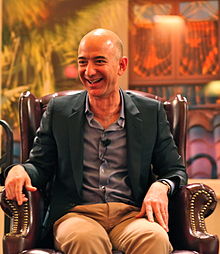 Considering the alternatives (like, you know, Rupert Murdoch buying the paper), this can only be a good thing. Besides, if anyone is going to figure out how to turn a dying 19th century-technology industry into a thriving 21st century-technology industry, I'm pretty sure it is Bezos.
The Washington Post has been owned by the Graham family for the past 80 years. And that got me to thinking…after 113 years, isn't it time for the Blethen family to sell off the Seattle Times and get it into the hands of someone with actual competence in internet commerce?
Bezos' letter to the WaPo staff can be found here.
(Photo by Steve Jurvetson)