This week the FDA produced a series of visual warnings designed to help smokers face long-term consequences of their habit. Here are a few of the juicer warning images that will be mashed up with the cigarette brand and logo: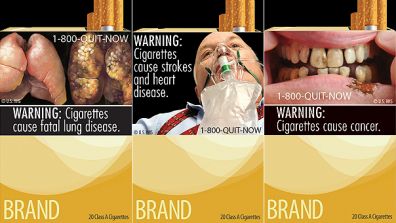 Gruesome reality can be a good teacher.
That got me to thinking…perhaps we need something like that for politics. In particular, we need a similar scheme to re-acquaint voters of the real-world consequences of voting Republican. I think the FEC could institute this on the federal level anyway, but states would have to do it for statewide and local elections. The idea is that every time a G.O.P. logo is plastered on a TV screen, web site, or piece of paper, a corresponding "health" warning would tag along.
Here are a few ideas I've put together….