In the archives of electoral history, the Washington state caucus will be recognized as the event that sealed the deal for Mitt Romney's nomination. SuperTuesday is only going to confirm what Washington settled. Romney's double digit win was devastating to Santorum, who was up with a double-digit lead in a mid-February WA primary poll.
The confirmation will come in Ohio, where Santorum had led Romney in every one of the numerous February primary polls. That changed in March. Romney leads in two of the three polls released over the weekend. The inertia suggest to me that Romney will beat Santorum by 5 or 6 percent in Ohio on Tuesday.
The abundant polling in Ohio tells the same story that we saw in only a few Washington polls: Rick Santorum received his brief turn as the Not Mitt. You know, like Gingrich before him (who actually got two rises and falls), and Herman Cain before that, and Rick Perry before that.
Perry went "oops!", Cain was too touching for a presidential candidate, and Newt Gingrich got enough media attention to remind Republicans why they hated Speaker Gingrich so damn much. So what happened to Rick Santorum?
He opened up his big fat yapper, that's what.
Actually…it's more like people started paying attention to the things he's always been saying. As a consequence, he was recognized for the puritanical freak show that he is. And for what a lousy politician he is.
On the freak side, we learned that Rick REALLY does believe that sometimes rape has a sort-of up-side: the gift of a baby. We learned that he opposes contraception because it is "a license to do things in a sexual realm that is counter to how things are supposed to be." Yikes!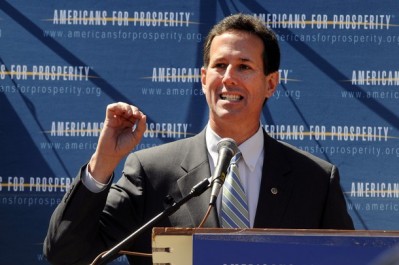 Rick Santorum explaining how things are supposed to be in the sexual realm
These two statements alone make Mr. Santorum a freak or, as Esquire's Charles Pierce puts it, "a dedicated theocratic loon", in the eyes of most Americans. Even in the eyes of some Republicans.
And that brings us to the lousy politician side. I suspect that about half of Republicans (largely the males) don't overly object to Santorum's freakish obsession with controlling people's sexual and reproductive organs. What they won't tolerate, however, is a politician who actually talks about it. Doing so is a sign of political tone-deafness, if not stupidity. The message: Santorum hasn't mastered the political fine arts of obfuscation and lying.
I learned, first hand, about these flaws in Santorum as one of his constituents during President Clinton's Senate impeachment trial. I wrote a letter to Santorum as well as Sen. Arlen Specter (R-PA) expressing my disapproval of the House's witch hunt, and my strong opinion that Clinton should be acquitted. I received (canned) letters back from both. Santorum's letter attempted to justify his vote for conviction in the strongest way. He dug in.
What I realized about him is that, unlike some of his other colleagues in the Senate, Santorum actually believed in impeaching a President over a blow job. It wasn't about political power and victory. No…it was a moral imperative to remove the sodomite for his impenitent transgressions against God. I realized he was too stupid to realize that his letter angered me to the point of triggering activism.
No, nominating a person with Santorum's political handicaps would be an act of electoral malpractice way beyond what John McCain committed when he selected an unvetted Sarah Palin to be his 2008 running mate. Republicans aren't going to make that mistake anytime soon.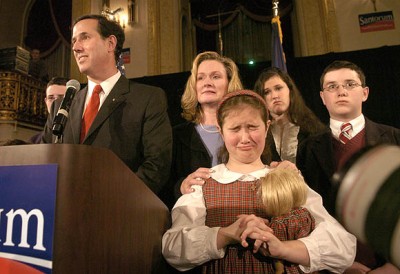 Rick Santorum, his wife, and their totally normal home-schooled children
So…say goodbye to Rick Santorum. The freak show is over.