A new batch of signature data for Referendum 71 has been released. The number of signatures examined is 58,493 which is 42.5% of the total signatures submitted. To date, 6,348 invalid signatures have been found, giving a raw rejection rate (uncorrected for duplicates) of 10.85%.
The invalid signatures include 5,502 that were not found in the voting rolls, 345 duplicates, and 501 that did not match the signature on file. There are also 30 "pending" signatures at various states of processing for a missing or illegible signature cards. I don't count these among the invalid signatures.
With 345 duplicate signatures found so far, we can anticipate a final duplication rate of about 1.69%.
The V2 estimator projects the number of valid signatures to be 121,648 giving an excess of 1,071 signatures over the 120,577 needed for the referendum to qualify for the ballot. The projected (duplicate-corrected) rejection rate is 11.65%.
A Monte Carlo analysis consisting of 10,000 simulated samples give a 95% confidence interval for valid signatures of from 121,175 to 122,415, well above the magic number. Here is the distribution of valid signatures: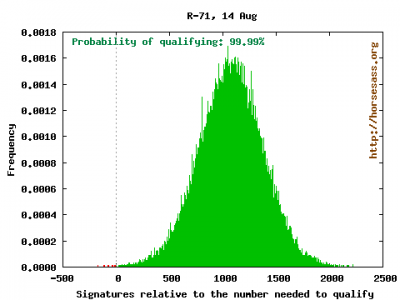 There are a few "losses" in red on the left, but the overwhelming majority of outcomes in green have the referendum qualifying. In fact, the referendum failed to make the ballot in only 11 of the 10,000 simulations.
With the results to date, it is pretty clear that, come fall, we will be voting to accept or reject the "Everything but Marriage" law.