It is just another Republican attempt to gain power through tricks and exploitation, rather than through leadership. We all remember previous Republican coup attempts: the Clinton impeachment, Katherine Harris' illegal disenfranchisement of tens of thousands of legitimate Florida voters, the Republican shutdown of recounts in Florida, the illegal mid-term Texas redistricting, the California gubernatorial recall, and even the Republican's attempt to steal the Washington governors office by suing over made-up charges of election fraud.
This time, the Republicans are gaming the electoral votes in California. Johann Hari's guest column in the Seattle P-I explains:
…the Republicans are trying to exploit the discontent with the Electoral College among Americans in a way that would rig the system in their favor. At the moment, every state apart from Maine and Nebraska hands out its Electoral College votes according to a winner-takes-all system. This means that if 51 percent of people in California vote Democrat, the Democrats get 100 percent of California's electoral votes; if 51 percent of people in Texas vote Republican, the Republicans get 100 percent of Texas' electoral votes.

The Republicans want to change this — but in only one Democrat-leaning state. California has gone Democratic in presidential elections since 1988, and winning the sunny state is essential if the Democrats are going to retake the White House. So the Republicans have now begun a plan to break up California's Electoral College votes and award a huge chunk of them to their side.

They have launched a campaign called California Counts, and they are trying to secure a statewide referendum in June to implement their plan. They want California's electoral votes to be divvied up not on a big statewide basis, but according to the much smaller congressional districts. The practical result? Instead of all the state's 54 Electoral College votes going to the Democratic candidate, around 20 would go to the Republicans.
The effect would be to hand the Republicans an extra state the size of Ohio or Pennsylvania–but without so much as a single extra popular vote going to the Republican candidate. They would simply be gaming the system for a short-term advantage to win acquire the White House in 2008.
At Hominid Views, I've been conducting a series of simulation studies for the 2008 election. I've used state-wide head-to-head polls pitting, say, Clinton against Giuliani (as well as other match-ups) to repeatedly simulate 2008 elections. The results provide a distribution of electoral college votes that can be used to estimate the probability that each candidate would win if the election were held today.
For example, after 10,000 simulated elections using, whenever possible, polls from the last month, the distribution of Electoral College votes looks like this: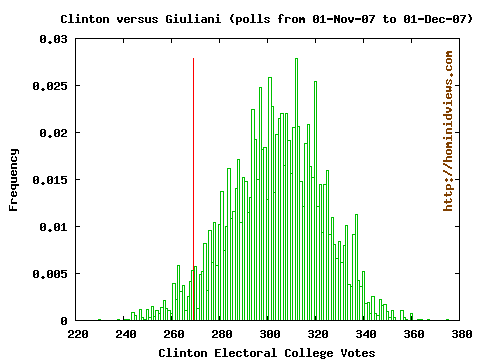 Clinton won the electoral vote 9,530 times, and Giuliani won only 417. (There were 53 ties that would almost certainly be a win for Clinton). In other words Clinton wins about 95.8% of the simulated elections and Giuliani wins 4.2%.
Here is the same simulation, but this time using the "California Counts" rules to divvy up the California electoral votes: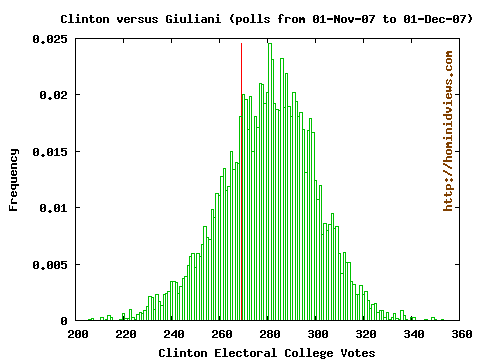 Now after 10,000 simulated elections, Clinton wins only 7,233 (plus 181 ties) and Giuliani wins 2,586. With no change whatsoever in the popular vote, Clinton's chance of victory decreases to 74.1% and Giuliani is up to a probability of 25.9%.
Giuliani's increased chance of winning is not attributable to some refinement of democracy, and it doesn't better reflect the will of the people. Rather, it reflects a trick. Apparently, the Republicans are still not confident in their ability to win through genuine leadership, superior public policy, or popular appeal. That leaves them with little choice but political trickery.