Just got the latest signature verification numbers on Forward Seattle's referendum, and it doesn't look good for the anti-$15 minimum wage crowd:
Referendum No. 2 (Forward Seattle)

| | |
| --- | --- |
| Number of signatures submitted | 18,928 |
| Number of signatures reviewed | 8,389 |
| Number of signatures verified | 6,409 |
With about 44 percent of the signatures verified, that's a validation rate of just 76.4 percent, far short of what's necessary to produce the 16,510 valid signatures needed to qualify for the ballot. The first batch of 3,353 signatures validated at 75.5 percent rate, so at first glance the validation rate appears to be trending slightly in Forward Seattle's favor. But some of this improvement is due to a small number of "signature miscompares" being rehabilitated under review from supervisors, and then folded back into the total, so it's not really possible to entirely compare validation rates from one batch to another.
And in case you think there's something fishy about such a low validation rate, think again: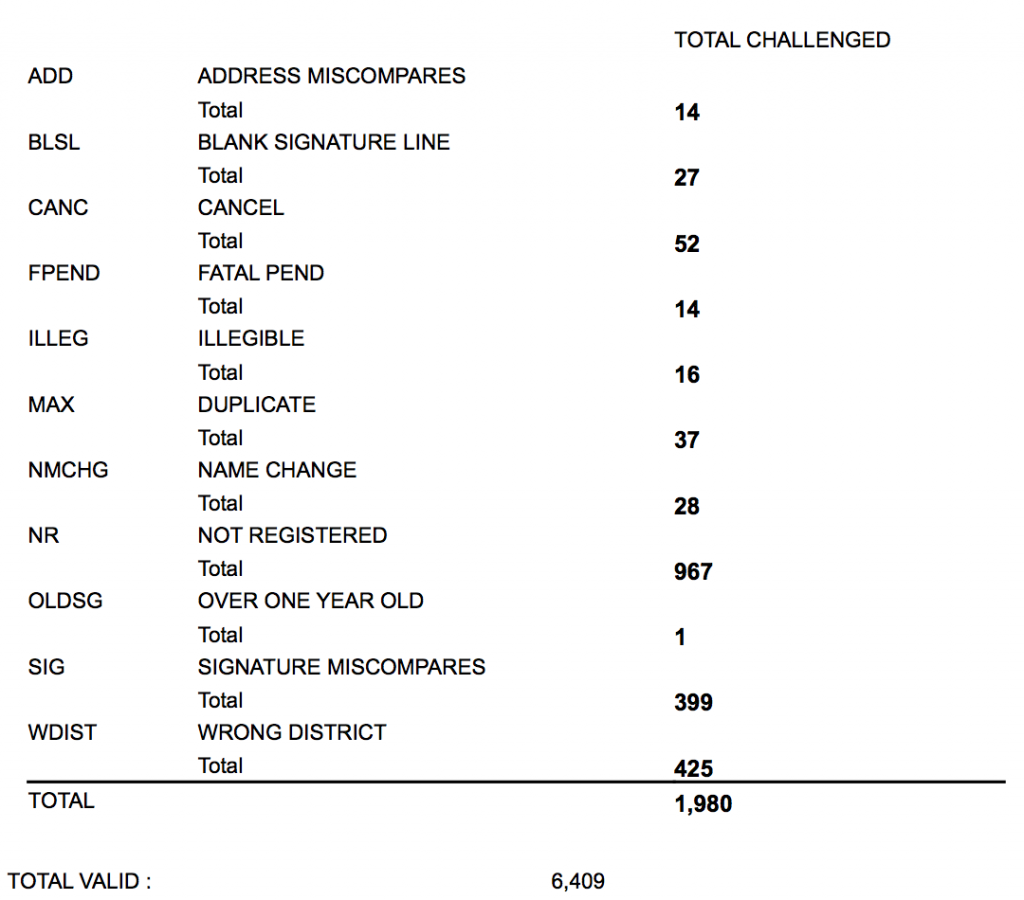 As you can see, the bulk of the rejected signatures are from people who are either not registered to vote, or are registered outside of Seattle. There's nothing subjective about that. Meanwhile, since the number of duplicate signatures tends to rise exponentially as the sample size increases (for obvious reasons), that number should jump to close to 200 by the time the process is completed.
Given just the numbers above, Forward Seattle would need an impossible 95.8 percent validation rate on the remaining signatures in order to qualify for the ballot. Not gonna happen. But there are also an additional 455 verified signatures out of 567 submitted from a second referendum drive. If these are added to the total (and it's not clear that they legally can), Forward Seattle would still need a 91.5 percent validation rate on the remaining signatures. Again, not gonna happen. And that's not even counting the "hundreds" of signature withdrawal affidavits Working Washington collected.
So stick a fork in it, this referendum is done! And it's not even close: Forward Seattle will fall a couple thousand signatures short of the threshold. There will not be a $15 minimum wage referendum on the November ballot.