There is no secret about it, our soldiers are not treated with the dignity they deserve. The shoddy treatment includes deployment extensions and stop-loss orders that add both length to and uncertainty in dwell times. Extensions and stop-loss are tools that the Administration chose for executing Bush's Big Military Adventure.
Sober planning for the war and, especially, the post-war period should have dictated a national sacrifice: taxes to fund the war (and the right equipment), a draft to put the required number of boots on the ground, and a concerted effort to fund and provide quality services to our newest veterans. But Bush, Cheney, and Rumsfeld tried to do it on the cheap, and our soldiers and veterans shoulder the burden.
The Walter Reed tragedy provided gut-wrenching documentation of the disgraceful treatment our veterans received under the "stewardship" of the Bush administration. But for every Walter Reed story, there are numerous other outrageous stories of veterans and soldiers denied the basic medical and (especially) mental health services they need.
This afternoon I attended a meeting of the Veterans and Military Families Caucus at the Democratic National Convention. There were two panels comprised largely of veterans: Major general Scott Gration USAF (Ret.), Colonel Dick Klass USAF (Ret), Command Sergeant Major Michelle Jones USAR (Ret), Lieutenant Colonel John Medve USA (Ret), Sergeant Major John Estrada USMC (Ret), among others.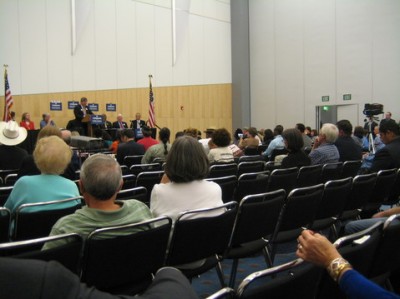 The mood in the room was not one of anger (say, the the kind of anger you get from bloggers like me who are outraged over the fraud perpetuated on our country by the Bush administration). There were no "swift boat" attacks on McCain from the panel. Rather, the mood was one of disappointment, hope for the future, and determination.
McCain's record on military and veterans issues was vetted by the panel, not in anger but in disappointment. The bottom line was summed up by one panelist: "McCain doesn't listen." A man who should be in a position to offer leadership on military and veterans issues has been AWOL far too often. A high-profile example is last year's Webb amendment that required periods of rest and recovery between deployments. McCain voted against the amendment. Another example…in May of 2006, McCain voted against a bill that provided an additional $20 million for medical facilities for veterans. Veterans and their families noticed these votes with disapproval and disappointment.
Much of the panel discussions were about the positive things Obama would do for soldiers, their families and veterans. Folks were quick to note that the very first committee Obama joined as a freshman Senator was the Veterans Affairs Committee. Likewise there was grateful acknowledgment and praise for Michelle Obama's genuine interest in the families of soldiers (and these folks seemed to make up a large proportion of the audience). Barack and Michelle have listened to soldiers, their families, and vets. (If you want more information on Barack Obama's positions on the military issues, BTW, check out his recent interview with Stars and Stripes.)
I've dropped in on a few of these meetings over the last two days. This one was different, and I found it personally very compelling and even, dare I say, emotional. The Veterans and Military Families Caucus meeting transcended "politics as usual." It was an authentic dialog among people deeply concerned about America and her warriors. They expressed a genuine hope in an Obama presidency—hope for change that we owe to veterans, soliders, and their families after eight years of recklessness and abuse.