A stranger rolled into town last week and left behind numerous IEDs—or improvised expression devices—subjecting commuters in our region to the terrors of unchecked free expression.
Once again FreewayBlogger left his marks all over the highways of Seattle: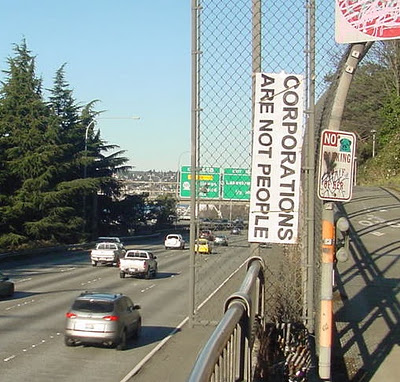 After taking a few years off, FreewayBlogger is back at it, posting along the highways up and down the West Coast. These days he is blogging about corporate "personhood", corporate greed, economic disparity, and anthropogenic climate change.
He is asking for your help.
During the later part of the Bush/Cheney regime, he blogged some great slogans like "Chimpeach", "Osama bin Forgotten," "Misery Accomplished," and something with that silhouette of a wired Iraqi prisoner: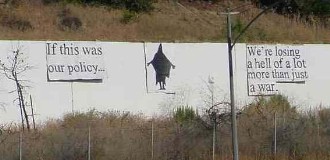 What he needs now are relevant, short, catchy slogans for his signs. Check out FreewayBlogger's newer signs, and if you have ideas for new slogans, leave 'em in that comment thread.
Another way you can help is by doing your own freeway blogging. Check out FreewayBlogger's videos "How To Reach 100,000 People For Under $1.00" and "How To Make A Sign In 5 Minutes."
The last time FreewayBlogger was in town, we spent an enjoyable afternoon at my house making new signs—here is my report to The General back in the Summer of 2007.