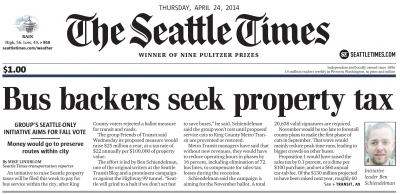 A day later it's above the fold in the paper of record, but remember: you read it here, first.
Well, actually, you read it here, first, way back in December of last year. But it was still me getting out ahead of the curve on a crucial issue:
City officials have been quietly exploring options to "buy back" in-city Metro bus service cuts in the event that all other options fail.

Seattle has unused Transportation Benefit District authority of its own (sales tax and car tab fee) that could yield up to $51 million in new revenue a year if approved by a simple majority of Seattle voters. Officials are also exploring a $25 million property tax levy "lid lift" that would also require a simple majority at the polls. Meanwhile, there's another $50 million in new revenue available to the council without voter approval, via a hike in the city's commercial parking tax, and a reinstatement of the controversial head tax, a per-employee tax on city businesses.
Those are the options that are on the table. Personally, I prefer the head tax/commercial parking tax option, as all it takes is the political balls to implement it. But I'm happy to see any proposal for buying back Metro cuts get the above-the-fold attention it deserves, as this will help push city decision makers to, you know, make a decision.