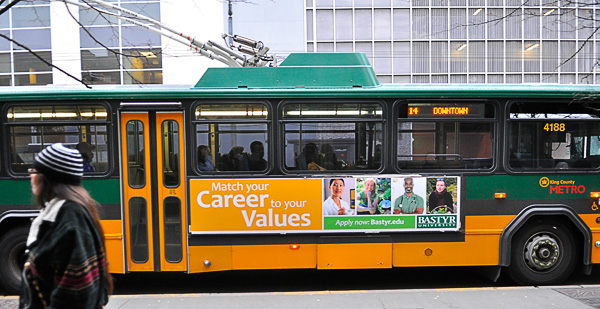 After its sales tax revenues fell off the edge of the Earth in the wake of the Great Recession, the plan to save Metro bus service from devastating cuts was pretty simple: we needed to move back to a stable, sufficient, and progressive Motor Vehicle Excise Tax (MVET)—a tax on the value of your car. But to do this, we needed permission from Olympia, and legislators insisted that they would only grant the county that authority after implementing money saving reforms.
That was Plan A: reform Metro's practices and levy an MVET.
And so limping along on a temporary $20 car tab fee and the last of its reserve funds, Metro did what it was told. Inefficient routes were cut or consolidated, bus drivers gave back cost-of-living increases, capital investments were canceled or deferred, fares were repeatedly raised, management was trimmed, and business practices were reformed. Metro was the target of multiple county, state, and independent performance audits, and subsequent reports have all lauded Metro for following through on money-saving recommendations. Hundreds of millions of dollars have been saved.
By all accounts Metro satisfied Olympia's demands, and yet legislators have refused to live up to their end of the bargain. Not because Metro didn't do enough—there's been no suggestion of that—but because Republicans have been holding Metro's MVET authority hostage in the service of forcing through a roads-heavy, anti-transit statewide transportation funding package. They need our votes to pass a gas tax increase their constituents don't want, and so they won't give us our local option MVET unless and until this statewide package is approved. Which, thanks to the dysfunction in the state senate, won't happen anytime soon.
And so the county decided to use the less progressive taxing authority it already had. We moved on to Plan B: $60 car tabs and a tenth of a cent sales tax increase.
You can question the wisdom of pursuing Plan B during a low-turnout special election, but we'd pretty much run out of time. County voters yesterday rejected Proposition 1. So service cuts are now coming. It's unavoidable.
But just because county voters as a whole refuse to tax themselves to pay for the services they need, doesn't mean that pro-transit Seattle voters need to shoulder their full share of the cuts. That's why it's time to pursue Plan C: Seattle needs to buy back proposed cuts on in-city routes.
Under the reforms demanded by the state and others, Metro revised and rationalized the way it evaluates route performance, devising a strict formula to guide reducing or expanding service. Now that Prop 1 has failed (and the legislature seems no closer to passing a transportation package), Metro will soon finalize its list of service cuts, giving Seattle the opportunity to consider which service reductions it might want to defer. Each service cut would produce a corresponding cost savings. And that would be the cost to Seattle of preserving that service.
King County voters may have rejected a car tab fee, but dollars to donuts Seattle voters did not. A $20, $40, or even $60 city car tab to save city bus service probably stands a better chance at the polls, particularly if we schedule the vote for the higher-turnout 2014 general election.
Is it a sure thing? No. Is it the proper way to fund regional transit? Of course not—it doesn't begin to address the tens of thousands of commuters crossing the city line (though we could always choose to subsidize some of those routes too). But remember, this isn't Plan A. It isn't even Plan B. It's Plan Fucking C, for chrisakes. It's what we reluctantly resort to only when the two better plans have already failed.
The only alternative is doing nothing. And given Seattle's transportation needs, that's not a plan Seattle can afford to pursue.