Roll Call provides a history of the savage Santorum smear concocted (so to speak) by Dan Savage. Former Pennsylvania Senator and likely 2012 GOP presidential primary candidate Rick Santorum has a rather persistent "Google problem."
Santorum's Google problem began in 2003, when gay sex-advice columnist Dan Savage sought to mock Santorum's comments on homosexuality. Then the third-most-powerful Republican in the Senate, Santorum told the Associated Press that April that gay sex could "undermine the fabric of our society." The interview touched on a Supreme Court case related to sexual privacy, and Santorum compared homosexual acts to allowing for "man on child, man on dog" relationships.
[…]

Savage soon created the website spreadingsantorum.com, tied to a contest in which he asked readers to submit definitions for the term "santorum."
The winning entry…see santorum.
As a former constituent of Sen. Santorum, my initial reaction upon hearing the neologism was, "Brilliant!" Two reasons why.
First, it just feels…um, maybe I should say, it just sounds right. Dan Savage wouldn't talk to Roll Call about it, but in 2003 he completely nailed the "sounds right" aspect:
What works so well about santorum is that a smart Savage Love reader linked Senator Santorum's vaguely clinical-sounding name with something distinctly scatological, an anal-sex-induced bodily fluid that had previously lacked a really good name. 'Santorum' sounds like it could be what that frothy mix of lube and fecal matter has always been called, and that's why it's caught on.
Yeah…that's it!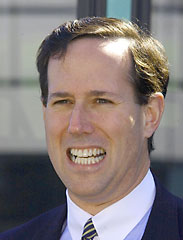 The second reason is…I don't know why, but Rick Santorum always struck me as a deeply repressed gay man, full of self-loathing, and trapped in his life as an anal retentive conservative Republican. You know…like a younger, more uptight, Eastern version of Larry Craig minus the restless leg syndrome. It wouldn't surprise me if Santorum is one day discovered in a cheap motel room, tied up to the bed posts (wait…posts on a motel bed?!?) naked and face down, with a leather-clad young man, whip in hand, lashing and scolding him for being a bad boy. No santorum involved. Just punishment.
Yes…a Santorum presidential bid will cause Dan Savage's Google monster to come alive with good clean fun and salacious innuendo. (That's right…we're talkin' santorum innuendo.)
Speaking of which, Goldy leaves HA with his own legacy of Google search results. Google Luke Esser and the second entry still points to Goldy's Luke Esser Fucks Pigs complaint to the Legislative Ethics Board. Sen. Esser lost the election, so I guess the Ethics Board never got around to following up on the complaint….
Or Google Bradley Marshall and the number three entry is Goldy's Bradley Marshall is a pussy post. (The number two entry is Dan Savage's contribution based on Goldy's post.)
Bradley Marshall, a Seattle lawyer, was upset by something Michael Hood posted at Blatherwatch—a post that was both tame and factual. Marshall had a suspended law license at the time, and was under investigation by the Washington State Bar Association. It couldn't have helped that he mailed a cease and desist letter using his official letterhead (implying he was licensed to practice law). The Bar Association was made aware. A year later, perhaps for totally unrelated reasons, the Washington Supreme Court disbarred him. Almost everyone came out a winner on that one.
Google David Irons and the second entry, Raging Bullshitter: the sad twisted tale of the Irons family feud documents some of the weaknesses (and strengths!) of the candidate for King County Executive. Irons lost.
Or, from another perspective, his mother won.