Dan Satterberg was recently quoted as saying "This office should be nonpartisan," and that he considers entering the world of partisan politics a necessary evil.
Apparently, Mr. Satterberg found it so necessary to partake of that evil that he is jointly headlining a Republican fund raising event…with Jane Hague!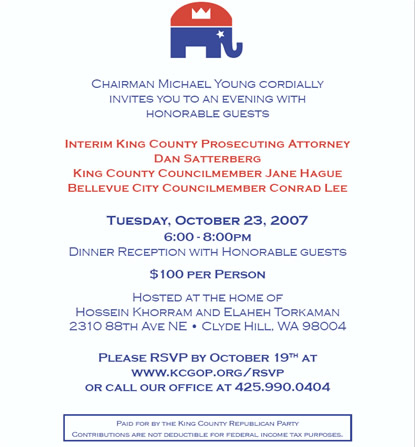 Uh-huh. When "evil partisanship" calls, Satterberg steps up to the plate! He sees no problem associating his good name with Jane Hague, a candidate who is deeply flawed and neck deep in scandal.
Call me cynical, but it sure looks to me like Dan Satterberg has become a Republican fund raising asset. And he hasn't even been elected to office yet! Democrats who are tempted to vote for Dan because "he is a nice guy, and is really kind-of, sort-of non-partisan" are simply fooling themselves—Dan is now an official tool in the Republican fund-raising arsenal.
But maybe I am misreading this whole thing. Maybe Dan is appearing at the fund raiser in a "non-partisan" role. Maybe Satterberg and Hague will actually be doing some sort of public service announcement. You know, like a Good Cop bad Drunk routine, where Jane tosses back a few, Dan tries arresting her and Jane unleashes a verbal volley. But this version of the tragedy ends differently: Jane takes full responsibility for her abuse and her drunk driving.
Or maybe Dan and Jane will make a joint announcement that, in lieu of a drawn-out investigation and prolonged prosecution, Jane has voluntarily decided to refund portions of her past King County salary—you know, from the job she obtained after lying on her resume about having a college degree. It could happen, I suppose.
Yeah…maybe Dan really is non-partisan, in which case, any day now, I expect to see him headlining a fund raiser for Venus Velazquez.