Check out the cover that will adorn Monday's The New Yorker: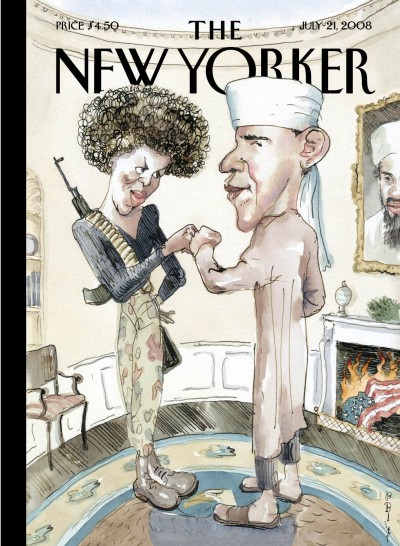 [Obama] Spokesman Bill Burton said in a statement: "The New Yorker may think, as one of their staff explained to us, that their cover is a satirical lampoon of the caricature Senator Obama's right-wing critics have tried to create. But most readers will see it as tasteless and offensive. And we agree."
Not to be outdone…
McCain spokesman Tucker Bounds quickly e-mailed: "We completely agree with the Obama campaign, it's tasteless and offensive."
For crying out-fucking-loud! This is political correctness gone amuck on the part of both campaigns. The caricature is clearly satire, and done in the best tradition of editorial cartooning. It mocks those who are truly tasteless offensive and, frankly, un-American: those right-wing retards who actually spread the "Obama is a radical Muslim who hates our freedoms and his wife is an angry psychopath who hates America" bullshit.
You know, Wingnut retards like the Clark County Republican Party and the Island County Republican Party.
If you want to express outrage (or even take mild offense), go after the assholes who disseminate such lies…not a magazine using satire to belittle them.
Update: The artist who drew the cover (Barry Blitt) responds.