I stumbled across this article today:
Woodinville's Tourist District Roundabout Transportation Improvement Project received an engineering excellence award from the Washington State Chapter of the American Council of Engineering Companies (ACEC). The award was presented to the Woodinville City Council on February 8.

The roundabout project won a gold award in the category of exceeding client/owner needs. […]

A number of other national professional engineering groups have also recognized Woodinville's project for its innovative use of three roundabouts. […]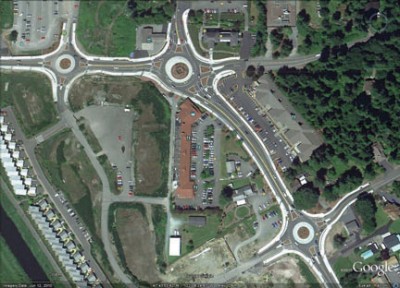 What drew my attention is that I use this bit of road at least several times a month. It reminded me that I been meaning to post a RANT about Washington drivers and their seeming inability to use roundabouts effectively.
Before I take up a menacing stance upon my mighty soapbox, let me first add to the praises of this project. For many years now, I have made almost weekly trips from my home in Redmond to Snohomish. I take SR 202 (or the Redmond–Woodinville road) to Woodinville and then pick up SR 9 to Snohomish. The intersection of SR 202 and Northeast 145th, was sometimes a mess. During rush hour, SR 202 used to back up for a mile or two. But even during low traffic periods, the intersection of roads at odd angles, combined with the particular traffic flows rendered an annoyingly low throughput at this intersection. According to this 2006 Seattle Times article, people have been trying to find a fix for this problem since the 1970s.
Roundabouts were the answer. Not those wimpy little traffic calming circles that one finds all over Seattle. These are real (if smallish) traffic roundabouts. About a year ago, they finished the project that consists of one main 2-lane roundabout. And there are two satellite roundabouts (see image) that, in part, serve to slow traffic down and permit a smaller main roundabout footprint.
My assessment: Fantastic! The one-way time between my house and my destination in Snohomish was reduced from 40 minutes to just under 35 minutes. Also the variance in trip time was reduced. Essentially, getting through the SR 202/NE 145th intersection is now both faster and accomplished in about the same amount of time each trip. I truly love these things.
What annoys me about roundabouts is the stupid-ass drivers who have no idea how to use them effectively. There are some simple tricks that, when everyone is in on it, makes them much more efficient. So, at the risk of being dubbed "The Traffic Nazi" by someone other than my significant other (Happy Valentines day, dear!), allow me to offer some advice to the traffic circle novice.
In America, you travel counterclockwise around the roundabout. Yes…I've witnessed (more than once) the car in front of me approach the roundabout in total confusion and then hang a left. Sigh.
Enter, traverse, and exit the traffic circle at a fairly constant speed. There is almost no excuse for stopping. Never stop in the circle unless not stopping would result in death (wayward pedestrian) or property damage (an idiot stopped in front of you). There is no need for slowing or accelerating through the circle. Just hang a constant 20 MPH (or whatever is appropriate for the circle size). If you find yourself changing speeds…you have probably fucked something up.
There is never ANY reason to panic in a traffic circle. In the past year of near weekly use of this newly redesigned stretch of highway, I cannot tell you how many times drivers in front of me have slammed on their brakes in confusion, or have exited in front of me only to pull a semi-panicked U-turn in front of me on the main drag. Dude…don't panic. If you're confused, and going counterclockwise, just chill and continue to circle. (On the other hand, if you are confused and going clockwise…panic!!!) Seriously, you can drive around a roundabout all day, and nobody will notice (except for that other pitifully confused driver going around in circles…but who cares what that dumb-ass thinks!). If you miss your turn, take a lap or two and exit with a Zen calmness once you've figured it all out.
When exiting the roundabout, USE YOUR GOD-DAMMED BLINKER…without fail. And USE YOUR DAMN BLINKER, TOO. Blinker good. Blinky-blinker-blink! By my estimates, only about one percent of drivers in Woodinville understand this small, but important, form of communication. In Europe, the compliance approaches 100% in my experience. Really…it helps everyone (especially the car waiting on you before entering the roundabout) if you signal your exit about midway between the previous exit and your desired exit. Not signaling means you have wasted other people's time and fuel.
When approaching the roundabout, time your entrance so that you don't have to stop. There is no stop sign at the entrance. Except in heavy traffic conditions, a full stop probably means you have failed to plan properly, and everyone behind you suffers. Of course you must yield right of way to traffic in the roundabout. But, like freeway on-ramps, you should plan the maneuver from early-on for a smooth merge with existing traffic (and don't get me started about idiots braking on freeway on-ramps!). By the way…if a vehicle in the roundabout has to adjust for your entrance…you've fucked up. It was your responsibility to enter without affecting the flow within the circle.
Whew! I'm glad I finally got that off of my chest.