A new poll in the Washington state gubernatorial race has Dino Rossi ("G.O.P. Party") holding a small lead over Gov. Christine Gregoire (D). The race is a rematch of the 2004 contest that Gregoire won by 133 out of 2.8 million votes.
The Strategic Vision poll sampled 800 likely voters. Gregoire received 46% support and Rossi received 48% support; 6% were "undecided". The poll was taken from 14-Sep to 16-Sep and has a margin of error of ±3%.
Rossi has now led in three of the four September polls. Last week's Rasmussen poll had Rossi leading Gregoire 52% to 46%. Before that, an Elway poll gave Gregoire a 49.1% to 42.4% lead over Rossi. The first poll of September gave Rossi a 48% to 47% lead over Gregoire. Other recent polling shows a shift from Gregoire's summer advantage to a very close race with, perhaps, a small advantage for Rossi: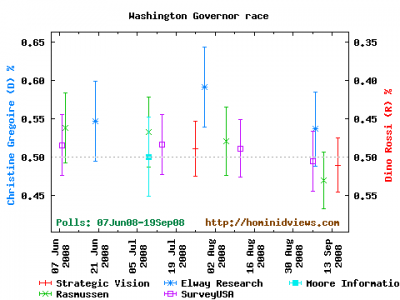 Clearly Rossi's new lead is well within the margin of error. We can empirically determine the probability that either Rossi or Gregoire would win an election held now using a Monte Carlo analysis.
A million simulated elections of 800 voters gives Gregoire 334,771 wins and Rossi 655,982 wins. If the election was held now, Gregoire would have a 33.8% probability of winning and Rossi would have a 66.2% probability of winning.
Here is the distribution of electoral votes resulting from the simulation.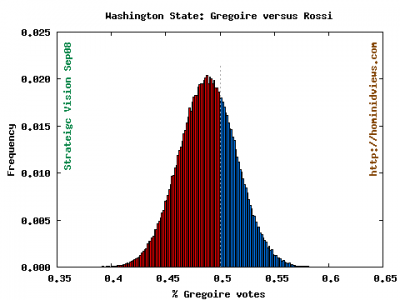 The Strategic Vision poll also looked at the presidential race. Obama holds a surprisingly thin +5% (47% to 42%) lead over McCain. The recent Rasmussen poll showed a tighter +2% margin, the Elway Research poll found Obama with a 7.5% advantage, and a SurveyUSA poll gave Obama a +4% edge. Here is the other recent polling: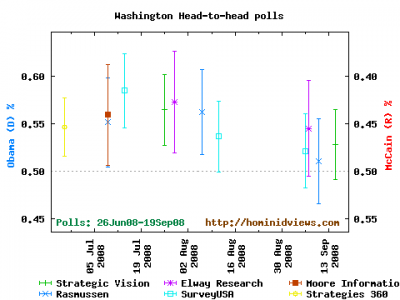 As we see in the Gregoire–Rossi race, the Obama–McCain contest has tightened up noticeably since mid-Summer.
Maybe it's time for Obama to stop back for another slice of Washington state apple pie.
Update: ARG just released a new Washington state poll that gives Obama a +6% lead (50% to 44%) over McCain.