The rematch of the Washington state gubernatorial race has seen Gov. Christine Gregoire (D) holding a small, but consistent, lead over Dino Rossi ("G.O.P. Party") from early in the year through August. Now, with less than two months to go to the general election, Rossi has "surged" to a modest September lead.
A new Rasmussen poll gives Ross a 52% to 46% lead. The poll of 500 likely voters was taken on September 10 and has a margin of error of ±4.5%.
This is the second consecutive polling lead for Rossi. A few days ago, a SurveyUSA poll gave Rossi a 48.2% to 47.4% lead over Gregoire.
The +6% lead in this new poll is Rossi's strongest performance since November, 2006: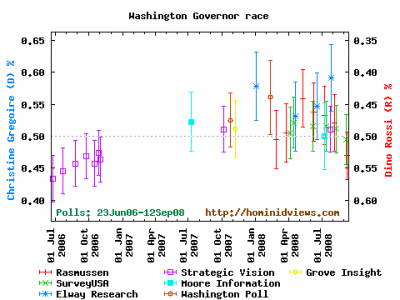 What is the probability that either Rossi or Gregoire would win an election held now? As usual, I'll use a Monte Carlo approach to address the question.
After one million simulated elections, we find that Gregoire wins 166,063 times and Rossi wins 825,788 times. If the election was held now, we would expect Rossi to have an 83.3% probability and Gregoire a 16.7% probability of winning.
Here is the distribution of electoral votes resulting from the simulation.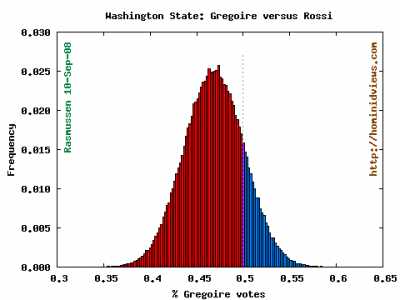 Given that we have two polls taken back-to-back, it is worth combining the SurveyUSA poll (taken 5-Sep to 7-Sep) with the Rasmussen poll (taken on 10-Sep).
The resulting analysis gives Gregoire 226,762 wins to Rossi's 766,697 wins. The combined polls suggest that, if an election was held now, Rossi would win with at 77.2% probability and Gregoire would win with a 22.8% probability: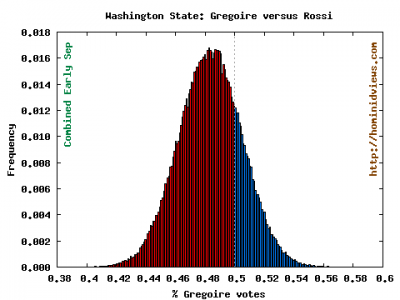 Is the lead real? There is a reasonable possibility it is—the probability of two consecutive statistical outlier polls is pretty small.
On the other hand, consider this: both recent polls also show McCain doing better against Obama than anyone could have reasonably expected. The Rasmussen poll in Washington state gives Sen. Barack Obama a narrow 49% to 47% lead over Sen. John McCain, and A few days earlier, a SurveyUSA poll offered Obama a 49% to 45% lead over McCain: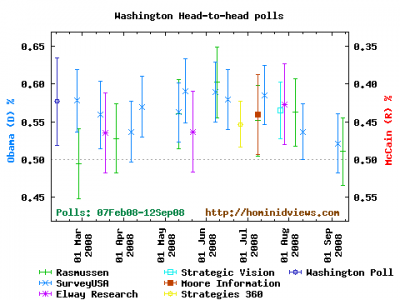 Both of these polls show a surprising decline in Obama's standing against McCain—a post-convention decline that is larger than anything I've seen in other blue states. So…maybe the lead is real. (More polls, please.)
In any case, given that the polling now has him ahead, can somebody please ask Dino to wipe that sublime grin off of his face? It's just looking creepy these days.
(Cross posted at Hominid Views.)