The winners of Tuesday's top-two primary for the Washington state Senate race were Sen. Patty Murray (D) and real estate speculator (and perennial candidate) Dino Rossi (R). Little surprise there. Late last week, Washingtonians got a double dose of post-primary polls matching up Murry and Rossi.
Rasmussen released this poll on Thursday showing Murray leading Rossi 48% to 44% in a poll taken the day before (18 Aug). The sample of 750 is large for Rasmussen—their samples are typically 500 likely voters.
On Friday, Survey USA released a poll taken on the 18th and 19th of August, on a sample of 618 likely voters. The results? A stunning 52% to 45% lead for Rossi!
What is going on? First let me wander off-topic for a minute to point out that in my analyses of past elections, I have found both Rasmussen and Survey USA to be pretty good polling firms for head-to-head general elections. Rasmussen has a bad reputation among liberals, but that is mostly based on their presidential approval tracking poll that IS biased slightly in favor of Bush and against Obama (relative to comparable polls) for the seven years that I have been following it. But approval tracking polls are not the same type of poll as a head-to-head election poll, and Rasmussen does just fine with the latter. Survey USA is sometimes dissed as a liberal polling firm by conservatives. Whatever…their track record is pretty good. Going on just the numbers from state polls during to 2008 presidential, senatorial, and gubernatorial elections, I can't really tell Survey USA and Rasmussen apart.
During the 2010 election season, some big differences I see is that Rasmussen has greatly increased the number of statewide polls they do; Survey USA has decreased the number of statewide races polled. I have no idea what to make of it. Anyway, onto the race.
Since these two polls were in the field simultaneously, I'll simply combine them and do my usual Monte Carlo analysis to determine the relative probabilities of each candidate winning based on these polls. Of the combined 1,368 "votes", Murray and Rossi got 1,289 of them; 46.6% went to Murray and 47.6% went to Rossi. When we normalize these so that they sum to 100%, Murray gets 49.5% and Rossi gets 50.5%. Even with this relatively large sample size, this is clearly a statistical tie.
After simulating a million elections using the observed frequencies and sample sizes, Murray wins 392,801 simulated elections and Rossi wins 599,396 simulated elections. In other words the two polls suggest Murray has a 39.6% probability of beating Rossi. Here is the distribution of wins: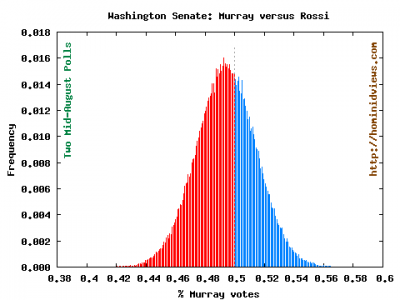 Objectively, those are the results. But, as a Murray supporter, I am not overly daunted. This graph of the polling in this race shows why: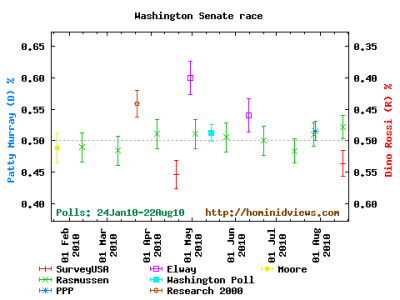 Notice anything odd?
Both of the Survey USA polls conducted for this race favor Rossi uncharacteristically strongly. Most other polls either tend to favor Murray, or show a very slight advantage to Rossi. That's odd. In fact, when the first Survey USA poll came out, neither camp believed it. I wonder if the Rossi camp believes it now?
Personally, I'm skeptical about the poll. It seems like something is going wrong for Survey USA. And looking at the cross tabs doesn't help. As N in Seattle points out in the Horses Ass comment threads:
If you take a look at the very last column in the survey's crosstabs, you'll see that they show Murray and Rossi tied in "Metro Seattle".
Really? Murray and Rossi tied in Metro Seattle? I doubt it. N in Seattle shows why:
Based on the population proportion, I assume that means King/Pierce/Snohomish Counties.

We're now counting a rather more comprehensive "survey", the primary election. In those three counties, Patty has 53% of the vote to Dino's 30%. SUSA is asking us to believe that in the general election:

a) about 10% of Patty's primary voters will switch to Rossi, and

b) every primary voter who chose someone other than Patty will vote for Dino, and

c) the voters who sat out the primary but will vote in the general election (about 1/4 of the electorate, and more strongly Democratic than primary voters) will follow the same pattern as in a) and b)

All of the above would have to happen in "Metro Seattle" for Dino to tie Patty here. It ain't gonna happen. In fact, it ain't even gonna happen in the rest of Democratic western Washington either.
I suspect even Dino Rossi would agree with N's analysis.
Notice that there are two other fairly recent polls on the graph. The earliest is another Rasmussen poll of 750 likely voters taken on 28th of July, and showed Murray up 49% to 47%. That is pretty close to tied. The second (in blue) is from Public Policy Polling (PPP) taken on 27th of July to the 1st of August on 1,204 registered voters. This poll showed Murray leading Rossi, 49% to 46%.
The PPP poll surveyed both the primary election and the general election, which gives us the chance to do a little accuracy-checking. For the primary, PPP found that Teabagger Clint Didier would get about 10% of the vote, Murray would get 47% and Rossi would get 33%. As of Sunday evening, Diddier is at 12.6%, Murray is 46.4% and Rossi is 33.3%. Pretty much spot on, considering it was taken about 18 days earlier.
One last exercise for your consideration. If we combine all four polls taken within the last month, and do the same Monte Carlo analysis, things turn around. There is a total of 3153 votes for either Murray or Rossi, Murray gets 50.6% of them,and Rossi gets 49.4%. Now, Murray wins 682,212 simulated elections, and Rossi wins 313,150 of them. In other words, these four polls give evidence that Murray would win with a 68.5% probability. And that includes the Survey USA poll! Here is the distribution…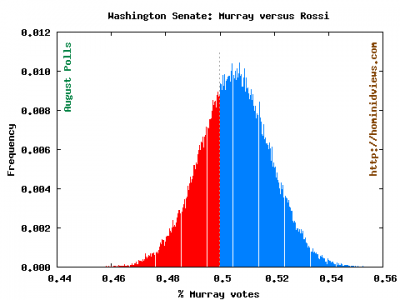 The take-home message is that the contest, at this point, is pretty close. But I think the more interesting question that arises from all this is…what the hell happened to Survey USA?!?
(Cross-posted at Hominid Views.)