We have fallen into a relatively dry spell for polling in the race between Sen. Patty Murray (D-WA) and real estate salesman Dino Rossi (R). Rasmussen has now released their latest Washington state poll showing Rossi leading Murray 48% to 47%. The poll of 750 likely voters was taken on Tuesday and has a margin of error of 4%.
This poll breaks Murray's streak of eight consecutive polls with the lead. Before today's release, the most recently taken poll was also by Rasmussen (17th Oct), and showed Murray with a +3% lead over Rossi (49% to 46%).
Using my usual Monte Carlo analysis employing 1,000,000 simulated elections, we find from the newest Rasmussen poll that Murray wins 415,950 elections to Rossi's 573,763 wins. Thus, evidence from this poll alone suggests that, if the election had been held last Tuesday, Rossi would have a 58% probability of beating Murray to Murray's 42% probability of beating Rossi. Given that the winning probability is under 95%, a statistician would tell us that the results suggest a statistical tie. Here is the distribution of simulated election outcomes: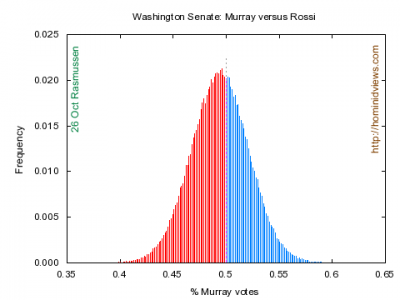 A more comprehensive picture of the election emerges by combining all polls from the past two weeks. Besides the two Rasmussen polls already mentioned, we include the Marist poll taken from 14-17 October on 589 likely voters, giving Murray a +1% lead and a Public Policy Polling poll taken from 14-16 October on 1,873 likely voters and gave Murray a +2% lead. (Other polls in this race started the survey prior to the 14th of October so aren't included.)
The combined meta-poll has 3,962 "votes" of which 1,920 go to Murray (48.5%), 1,862 go to Rossi (47.0%), and 180 (4.5%) just go away. In the Monte Carlo analysis, Murray wins 746,418 times and Rossi wins 249,788 times. In other words, the four polls suggest that Murray would win an election held over the past two weeks with a probability of 74.9%, and Rossi would win with a probability of 25.1%.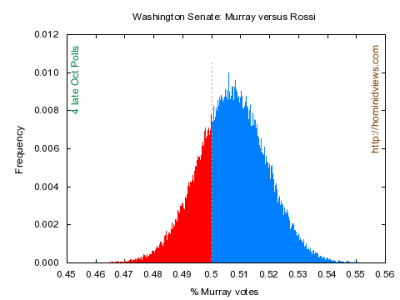 This collection of four recent polls gives the appearance that the race has tightened up a bit (compare this to the 98% win probability for Murray from pooled polls early last week). Keep in mind, however, that three of the four most recent polls are robopolls. As I discussed previously, there is a strong trend of robopolls showing Murray under performing relative to live-interview polls. Perhaps we will get a live-interview poll tomorrow….