Today's release of R-71 data has the total signatures examined at 117,069 (85.0% of the total). There have been 13,815 invalid signatures found, for an uncorrected rejection rate of 11.80%.
The invalid signatures include 11,178 that are not found in the voting rolls, 1,477 duplicates, and 1,160 that did not match the signature on file. There are 56 pending signatures. With 1,477 duplicates, we expect a duplication rate of about 1.82% for the petition.
The V2 estimator gives the projected number of valid signatures as 121,129, a surplus of 552 signatures over the 120,577 needed to qualify for the ballot. The overall rejection rate for the total petition is now expected to be 12.03%.
A few more details can be found after the fold.

Of course these projections assume that the underlying error rates are representative of those in the remaining signatures. But there is a wrinkle: a third-stage check is being conducted on some of the invalid signatures using the most current voter database. As Brian Zylstra from the Office of the Secretary of State explains:
[a]nother 152 previously "not founds" in Volumes 221 through 266 were moved to the "accepted" pile on Monday. There now have been 713 names moved to the "accepted" category after a review of Volumes 1-266. On this spreadsheet, Volume 266 is highlighted, which shows how far the third checkers have gone with this particular check. The third check process was started as a way to review the names of petition signers whose names did not appear on the snapshot of the voter registration database that checkers had been using from the start of the checking process. The live version of this database is being used to check those names in question.
For our purposes, this means that the projection of total valid signatures should underestimate the actual number because we are starting with rates based on completed stage-two checks but partially completed stage-three checks.
Here is a graph of the trend in projected signatures since 11 Aug. The vertical bars are 95% confidence intervals; the red line shows the signatures needed to qualify.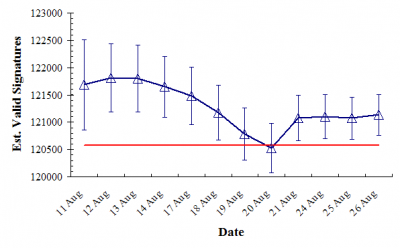 We see a slight increase in the total valid signature projection compared to yesterday. This probably reflects those signatures added in from the third phase checks. Either way, the results suggest that, barring any surprises, R-71 should qualify for the ballot.