I wasn't able to post these results yesterday, but today's batch of R-71 data has been released. The number of signatures examined is now 110,288, (about 80.1% of the total signatures). There have been 12,983 invalid signatures found, for an uncorrected rejection rate of 11.77%.
The invalid signatures include 10,580 that are not found in the voting rolls, 1,314 duplicates, and 1,089 that did not match the signature on file. There are also 44 signatures "pending" that I am simply ignoring.
Great big caveat: A new third-stage check is now being conducted using the most current voter database on signatures not found in the older database. They have made it through volume 220 of the 510 completed volumes. This means that some of the 10,580 "not found" signatures will be found in the next few days.
The 1,314 duplicate signatures suggest a duplication rate of about 1.82% for the total petition.
Using the V2 estimator, and ignoring the third-stage check, the number of valid signatures is projected to be 121,070, giving 493 signatures over the 120,577 needed to qualify for the ballot. The overall rejection rate should end up at 12.07%. Of course that third stage check will likely add another 500 valid signatures to the total, making qualification highly likely and the rejection rate lower.
Here is a crude history of the projected totals since August 11th. The vertical bars give 95% confidence intervals for the projected number of signatures. The red line shows the minimum number of signatures required to qualify for the ballot.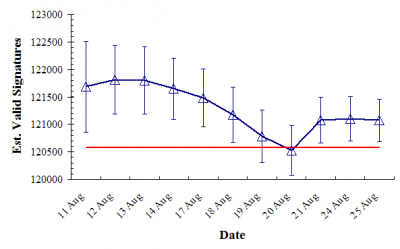 For some unexplained reason, the rejection rates were increasing through the 20th (leading to a decreased projected number of signatures). The third-stage checking started on the 20th, and I would have expected to see a decreasing rejection rate from that, leading to in increase in the number of valid signatures projected for the petition. Instead we see a flat line for the past three analyses. Perhaps an increasing rejection rate is being canceled by the third-phase check. Who knows.
Whatever the reason, if there are no last minute surprises left to perturb the pattern, R-71 will qualify for the fall ballot.