A variant on Chris Rock's "Another kid?" routine started playing in my head as I read David Ammon's post at the SoS blog last night…
"Another change?"

"ANOTHER CHANGE???"

"Get the fuck outta here!"

(* Sigh *)
Look…it really isn't about the roller coaster ride, where R-71 was losing and then winning and then losing and now winning again. It's that I thought the Secretary of State's office understood after the first time we went through this that we wanted real numbers of rejected signatures; not the number of signatures awaiting another check.
In other words, I didn't simply want a pile of numbers to spin, fold and mutilate for my own amusement. I wanted numbers that had some valid analytical utility. And that means well-defined numbers. Numbers that, when attached to the label "Rejected: Registration Not Found", gave the number in this category that were…well, actually rejected. That's not what we got.
Okay…so how do things stand now, with some unknown number of signatures being shuffled from the reject pile to the accept pile? (See this and this for an update; something over 35% of the third-phase checks have been completed, based on progress made through yesterday.)
Today's batch of R-71 "data" have the total examined signatures at 97,287 (about 70.7%). There have been 11,315 invalid signatures found, for a cumulative rejection rate (uncorrected for the final duplicate rate) of 11.63%.
The invalid signatures include 9,347 that are not found in the voting rolls in at least two check phases, and an unknown number who have made it through a third and presumably final check. There were 1,021 duplicate (or triplicate) signatures found, and 947 signatures that did not match the signature on file. There are also 52 "pending" signatures awaiting signature cards—I ignore these for now.
The 1,021 suggest a duplication rate for the entire petition of 1.78%, down from 1.90% yesterday.
If the numbers were final, we could use the V2 estimator to project the number of valid signatures for the final petition and learn that there should be about 122,642. This gives a 2,065 signature margin over the 120,577 needed to qualify for the ballot. The overall rejection rate is down to about 10.93%. Yesterday this figure was 12.47%, but the phase 3 checks have returned formerly rejected signatures to the accept pile.
A Monte Carlo analysis of 100,000 simulated petitions, using the rates we have now, give the measure a 99.11% probability of qualifying for the ballot. Quite a change from yesterday.
Here is our graph showing the results from each data release for the last two weeks: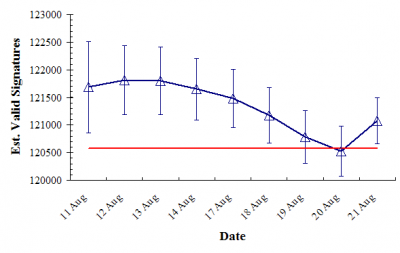 I am inclined to think this is the worst case scenario for R-71 proponents. That is, as the third-phase check is completed, the measure will gain on the margin of votes needed for qualification.
There is one other twist. Apparently there is some evidence that 7% to 15% of accepted signatures belong in the reject pile. I haven't tracked down the details, and I have no idea what the SoS office intends to do about this. But, I'm sure the lawyers have their ears perked up! Way, way up.