Public Policy Polling has released their final poll of the election season in the Washington Senatorial race. The poll, taken from 29-31 October on as sample of 2,055 likely voters (giving a 2% MOE) has Sen. Patty Murray trailing real estate peddler Dino Rossi 48% to 50%.
While this is only the fourth of twenty polls taken over two months that has Rossi ahead, Rossi has led in two of the past four polls, and Murray has only led in one of them.
A Monte Carlo analysis of the PPP poll shows Murray winning 256,364 simulated elections to Rossi's 738,506 wins. The poll provides evidence that Murray would win with a 25.8% probability to Rossi's 74.2% probability. Since Rossi's winning probability is under 95%, the result is, technically, a statistical tie. But don't be fooled…Rossi has an advantage by this poll, as is clear in the distribution of simulated election outcomes: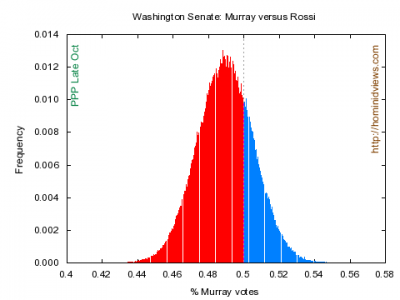 A more complete picture of the election outcome comes by examining all polls taken over the past two weeks. There have been six polls conducted since 17 October until 31 October, and it includes all polls taken since ballots were mailed to most Washington state voters. The metapoll includes 5,371 responses, of which 2,583 are for Murray and 2,582 are for Rossi.
No kidding! They are literally tied as they can be, given the odd number of respondents who chose to "vote." Can you say "recount!" and "paging Judge Bridges"? I think it is fair to say that this race has seen movement over the past month that has favored Rossi in dissolving Murray's clear lead.
I'll end this post with the raw polling picture over the past two months. In a race so close, different people will squint at this graph, view it through different ideological or partisan filters, dump polls they don't "like", and come to different conclusions. In fact, this race is, based on any individual poll or based on every poll taken in the past two weeks, utterly indistinguishable from a tie.