SurveyUSA released the first poll of the season in the 8th CD race between Darcy Burner and Rep. Dave Reichert.
The poll surveyed 679 likely voters on June 16th and 17th, and showed Reichert leading Burner 51% to 45%.
As usual, I try to assess these poll results by a simple Monte Carlo analysis. I simulated a million fictitious elections between Burner and Reichert, using the observed percentages and the number of people polled.
Reichert won 948,339 of the elections and Burner won 48,199 times. In other words, the poll results suggest that, for an election held right now, Burner would have a 4.8% probability of winning the election and Reichert would win with a 95.2% probability.
Here is the distribution of outcomes (percentage of votes) from the million simulated elections (Reichert victories are those to the left of the red "tie" line, Burner victories are those to the right):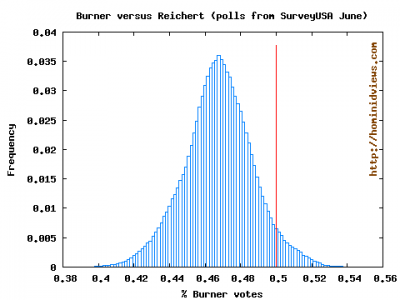 At risk of coming off as just another amen blogger, the poll results don't strike me as particularly bad for Burner. Yeah…she is -6% down, but Reichert, as the incumbent, starts out with the advantage. The poll's cross-tabs look reasonably positive for Burner. Among other things, of those who said they could change their mind, 50% were Reichert supporters and 39% were Burner supporters. Also, Reichert holds 35% of the pro-choice vote. It's hard to imagine that the Burner campaign won't make in-roads into that group.
This poll comes on the heels of massive mailings of campaign flyers franked informational pieces from the Reichert campaign congressional office. The Burner campaign, to my knowledge, has not made any media purchases.
Furthermore, Reichert has recently gotten a lot of well-deserved publicity for eco-friendly votes. I say "well deserved" because, clearly, Reichert's handlers have developed a brilliant strategy that has rendered the local media stupifyingly blind to Reichert's strategy of full participation in Republican obstructionism in Congress during procedural votes, only to switch his vote when the results are certain passage. Daniel Kirkdorffer has meticulously documented this rather cynical strategy. It is hard to say whether Reichert's people will be able to maintain their spell over the media through November.
(Cross-posted at Hominid Views.)