Rasmussen Reports released a new poll today that shows former Rep. Jay Inslee (D) barely leading Washington Attorney General Rob McKenna (R) in the Washington state Governor's race. The poll of 500 people (4.5 M.O.E), taken on Wednesday, has Inslee up 46% to 45%.
Inslee has now led in the last four consecutive polls. The last time McKenna led was in a SurveyUSA poll from mid-July.
In the two previous September polls, Inslee has led by 44% to 41% and 49% to 44%. The current poll might signal that the race is tightened…alternatively, the variability we see is simply sampling error.
To assess the state of the race, I performed a Monte Carlo analysis using a million simulated elections using the sample size and proportions found only in today's Rasmussen poll. Inslee won 558,701 times and McKenna won 428,130 times. This suggests that, if the race was held today, we could expect Inslee to win with a 56.6% probability. Here is the distribution of electoral votes: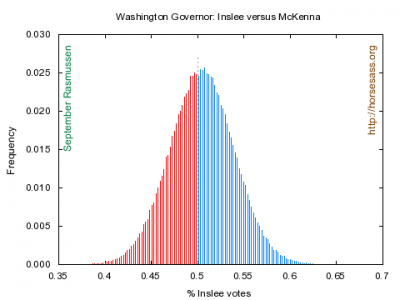 If you believe the race has been stable over the past couple of weeks, we can combine the last two September polls. Now, Inslee takes 761,308 wins to McKenna's 231,884 wins. The evidence from the past two weeks suggests that Inslee would have a 76.7% probability of coming out ahead in an election held now: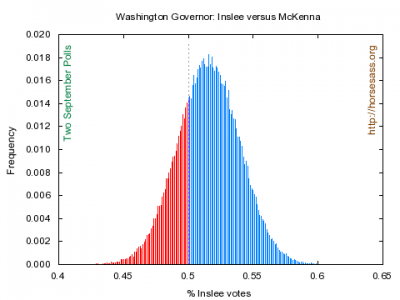 In other polling news, Survey USA released a new poll in Washington's 6th district. The poll of 628 likely voters taken last Friday through Sunday finds Derek Kilmer (D) leading Bill Driscoll (R) by 52% to 37%.
The seat is currently held by Rep. Norman Dicks (D) who is retiring at the end of this term.