A new poll by SurveyUSA on behalf of King 5 finds former WA-01 Congressman Jay Inslee leading state Attorney General Rob McKenna, 48% to 45% in the race to be Washington's next governor. The poll surveyed 524 people likely to vote in the November general election (4.4 MOE), and was conducted from August 1 – 2 with calls made to landlines and cellphones.
A Monte Carlo analysis employing a million simulated elections, finds Inslee with 687,504 wins and McKenna with 301,583 wins. The analysis suggests that, in an election held now, Inslee would win with a 69.5% probability and McKenna would win with a 30.5% probability. Since Inslee's has under a 95% probability of winning, the lead is not considered "statistically significant."
Here is the distribution of election outcomes from the simulated elections: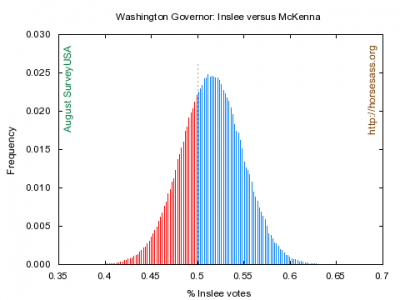 Although crosstabs are not available yet for the gubernatorial results, SurveyUSA has released results for the presidential contest taken at the same time. The poll finds Obama leading Romney 54% to 37%. The partisan make-up was 36% Democrat, 27% Republican and 35% independent, pretty much matching the previous Elway poll (35% D, 27%R, 38% R). The composition is more Democratic-leaning than was found in the July SurveyUSA poll (33% D, 30% R, and 36% I).
This is the second consecutive poll showing Inslee with the lead. The previous poll was by Elway and showed Inslee with a 7% lead and an 87% probability winning an election held then. Days before that, a Survey USA poll found McKenna up by +1 and a 58% probability of winning an election then. The polling history shows a long term shift from a solid McKenna advantage to a weak Inslee advantage: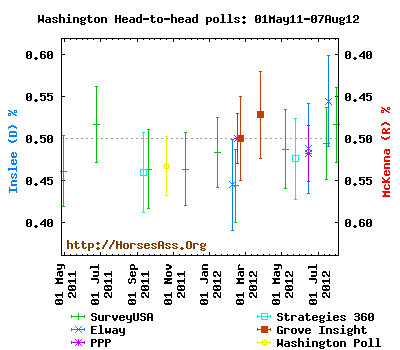 Eleven months ago, McKenna was clearly the front-runner in the race. Then, after two solid early February polls, a couple of later February polls showed the race tied. Since then McKenna has usually held small leads in the polls. Until the last few weeks.