Elway Research has released a new Washington state poll that includes some interesting races. The big one, of course, is the Washington state gubernatorial race.
The poll shows Gov. Christine Gregoire (D) leading challenger Dino Rossi (GOP-Party) 52% to 36%, with 12% "undecided". This relatively small poll of 405 people was taken from July 27th to July 31st, and has a margin of error of 5%
This is the fifth July poll in this race. Rossi has led in none of them. In fact, Rossi has not led in a poll since the end of February—going back 14 polls.
As usual, I'll analyze the results using a Monte Carlo approach (1,000,000 simulated elections with 405 voters, but this time the analysis is modified [upon prodding by scotto and Richard Pope] to include an additional uncertainty term. Technically, now I am drawing counts of votes from a beta-trinomial distribution and using uniform [uninformative] prior distributions on the preference probabilities).
Result 1: Gregoire won 992,024 of the elections and Rossi won 7,115 times. This suggests that, if an election were held now, Gregoire would have a 99.3% chance of winning and Rossi would have a 0.7% of winning.
Here is a plot showing the distribution of votes in the million elections (blue bars are wins for Gregoire and red bars are Rossi wins):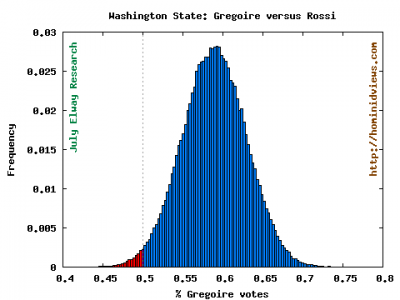 You may recall that there was a recent Strategic Vision poll of this race that gave Gregoire a slimmer 47% to 45% lead. That poll was taken from 25th July to 27th July. Given that the Elway and Strategic Vision polls were taken back-to-back, a combined analysis would seem in order.
Result 2: This time, Gregoire won 955,951 elections and Rossi won 41,842 of the elections. The analysis using both polls suggests that Gregoire would win with a 95.8% probability and Rossi would win with a 4.2% probability. A statistician would point out that, even using both polls, Gregoire's win is slightly outside the margin of error.
Here is the plot showing the distribution of votes in the million elections for the combined polls: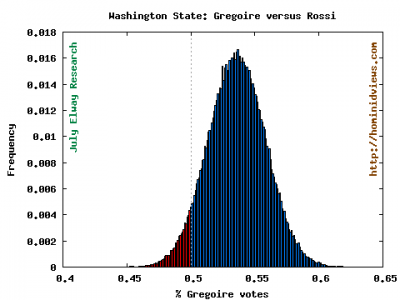 Elway Research also polled for the presidential election in Washington state. Sen. Barack Obama (D) leads Sen. John McCain (R), 47% to 35%. This +12% margin is notable because, if I'm not mistaken, this is the first time that Gregoire has polled better against Rossi than Obama has against McCain.
Other results of note in the Elway poll include the Commissioner of Public Lands race where Peter Goldmark (D) barely leads incumbent Doug Sutherland (R) 31% to 30% (well within the margin of error, obviously). In the Attorney General race, incumbent Rob McKenna (R) leads John Ladenburg (D) 41% to 30%.
(Cross posted at Hominid Views)