Elway has just released their June poll for the Washington state gubernatorial race. The poll of 405 people shows Governor Christine Gregoire leading Dino Rossi 47% to 39%.
The 8% spread found by Elway is the largest of the three June polls in this race. An early June SurveyUSA poll found Gregoire leading by +3.5%, and an early June Rasmussen poll found Gregoire up by +7%.
As usual, I use a Monte Carlo analysis to estimate the probability that Gregoire would win if the election were held now. I simulated a million gubernatorial elections of 405 voters each, where each person had a 47% chance of voting for Gregoire, a 39% chance of voting for Rossi and a 14% chance of voting for neither.
Gregoire won 965,619 of the simulated elections and Rossi won 3,852 times. This suggests that Gregoire has something approaching a 96.9% chance of beating Rossi (if the election were held now). A statistician would simply point out that Gregoire's lead in this poll is outside the margin of error.
Here is a plot showing the distribution of votes in the million elections: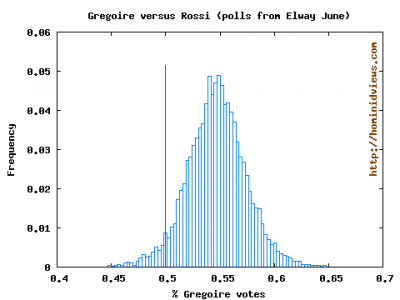 The area to the right of the red line are wins for Gregoire; those to the left are wins for Rossi.
This current poll makes the eighth consecutive poll in a row in which Gregoire has led Rossi. At this point in the election season, Gregoire holds a commanding lead over Rossi.