Moore Information has released a new poll for the Washington state gubernatorial race. The poll of 400 people, taken from July 9 to July 10, shows Governor Christine Gregoire (D) tied with Dino Rossi (GOP-Party) at 45%.
The race has tightened up even further than the +6% spread found in a July 9th Rasmussen poll discussed last Friday. June polls gave Gregoire (chronologically) +3%, +6% and +8% leads over Rossi.
My usual Monte Carlo analysis is unnecessary…with a tied poll, Gregoire and Rossi each have a 50% chance of winning an election held now. But given that the Moore and Rasmussen polls were taken simultaneously, I'll do my usual analysis of the combined results.
When the July 9th Rasmussen poll is pooled with the July 9-10 Moore poll we end up with 900 pooled polled individuals, of which 80 (8.9%) were undecided, 425 (47.2%) voted for Gregoire and 395 (43.9%) went for Rossi. I simulated 1,000,000 elections of 900 people, each randomly voting with probabilities equal to the three percentages.
Gregoire won 848,698 of the simulated elections and Rossi won 143,199 times. The combined results suggest that, if an election were held now, Gregoire would have something like an 85.6% chance of beating Rossi, and Rossi would have a 14.4% chance of beating Gregoire. (When the Rasmussen poll was analyzed alone, Gregoire had a 90.9% probability to Rossi's 9.1% probability of winning.)
Here is a plot showing the distribution of votes in the million elections for the pooled polls: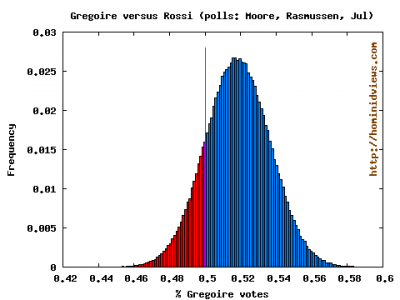 Blue bars are wins for Gregoire and red bars are Rossi wins.
Moore Information also polled a head-to-head match-up between Sen. Barack Obama and Sen. John McCain. Obama lead McCain 47% to 37%. The +10% advantage for Obama is very similar to the +9% edge found in the Rasmussen poll (48% to 39%).
Stop by Hominid Views later this evening to see a 50-state Monte Carlo analysis that will include this new poll.
Oh…one other thing. The Moore Information poll was paid for by the Rossi campaign.