A new poll in the Washington state gubernatorial race has Dino Rossi ("G.O.P. Party") leading Gov. Christine Gregoire (D) for the first time since February.
This race is a rematch of the 2004 contest that Gregoire won 133 votes out of 2.8 million votes.
The SurveyUSA poll sampled 658 people. Gregoire received 47.4% support, Rossi received 48.2% support, 2.9% preferred another candidate, and 1.5% were undecided. The poll was taken between the 5th and 7th of September, on the heels of the Republican National Convention that ended on September 4th. The poll's margin of error is ± 3.9%.
Prior to this poll, Rossi had not held the lead for fifteen consecutive polls, stretching back to late February. One July poll had found the race tied.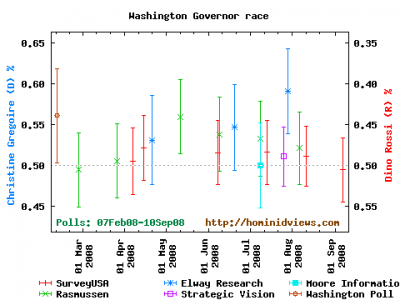 Clearly, Rossi's new lead is well within the margin of error. Even so, the evidence offered by this poll gives Rossi a higher probability of winning. (All statisticians mean by "statistical tie" is that the poll leader's probability of winning is less than 95%.)
We can empirically determine the probability that either Rossi or Gregoire would win an election held now using a Monte Carlo analysis.
A million simulated elections gives Gregoire 440,892 wins and Rossi 548,161 wins. These results suggest that, if the election were held now, Rossi would have a 55.4% probability of winning and Gregoire would have a 44.6% probability of winning.
Here is the distribution of electoral votes resulting from the simulation.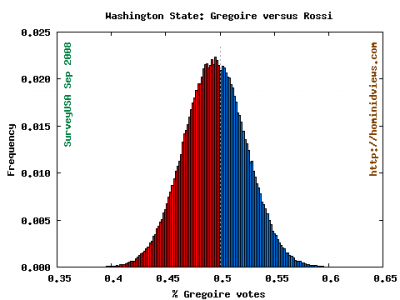 The poll results could reflect a couple of things. The obvious possibility is that Rossi has benefited from a post-convention bounce. Or maybe a post-convention bump—time will tell. The bounce/bump possibility is supported by the observation that the same poll found the race between Sen. Barack Obama and Sen. John McCain tightened-up to a narrow 49% to 45% lead for Obama. The previous poll was the August SurveyUSA poll that gave Obama a stronger 51% to 44% lead.
The second possibility is that this is a post Democratic Convention bounce for Rossi. The Rossi campaign ran advertisements that sandwiched Obama's acceptance speech, offering Rossi's local version of Obama's message of change.
This leads one to wonder…Given Rossi's implicit endorsement of Obama's theme, will he vote for Obama in November? Don't bother asking him, though. It's probably not an issue he wants to talk about.
(Cross posted on Hominid Views.)