I've largely neglected local and statewide races this election season. No particular reason, although I haven't felt that the Republican candidates in the Senate and Gubernatorial races have run particularly strong campaigns.
I guess it isn't too late though. And today's Elway poll piqued my interest in the Gubernatorial race. The race matches up Gov. Jay Inslee (D) against challenger Bill Bryant (R).
The poll, conducted from 20 Oct. to 22 Oct on 502 likely voters has a margin of error of 4.5%. Of the 502 respondents, 452 are either for Inslee or Bryant. Inslee received 256 "votes" (51.0%) and Bryant received 196 "votes" (39.0%), with Other or Undecided at 50 "votes" (10.0%). When we normalize the results to just Inslee and Bryant "votes," Inslee gets 56.6% and Bryant gets 43.4%
I did a Monte Carlo simulation of 1,000,000 simulated elections. The final tally gave Inslee 975,893 wins and Bryant 22,276 wins. In other words, if an election was held now, we would expect Inslee to win with a 97.8% probability, and Bryant with a 2.2% probability.
The probability distribution of electoral vote outcomes pretty much tells the story: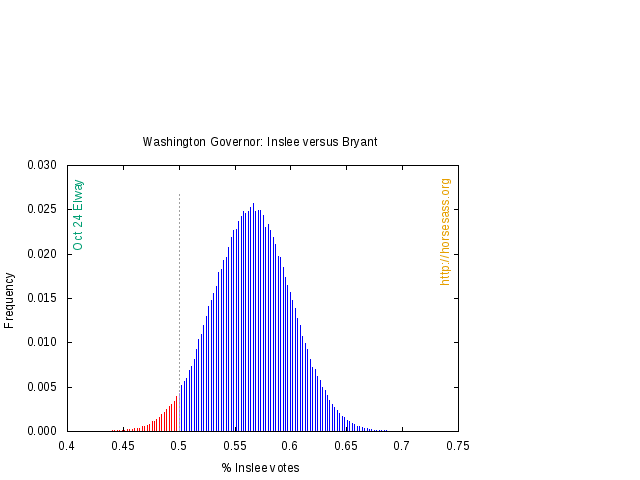 The previous poll, by Strategies 360 taken from 29 Sep to 3 Oct, gave similar results. The poll surveyed 500 individuals (4.4% MOE) and found Inslee at 50% to Bryant's 40%, with 10% undecided.
With two weeks to go and ballots already being returned, it seems like Inslee is quite likely to serve a second term.