This is a quick follow-up to my previous post about the new Washington Poll. The poll surveyed 938 registered voters from 10th Oct to 30th Oct.
In the Washington Governor's race, the poll found Rep. Jay Inslee behind AG Rob McKenna by 38.4% to 43.9% with 17.7% undecided. The question is, how do these numbers translate into the probability that McKenna would beat Inslee if the election had been held in October. As is my habit, I employ Monte Carlo methods, simulating a million elections of 938 voters randomly drawing votes at the observed percentages.
The results give Inslee 92,405 "elections" and McKenna 903,409 "elections." Thus, McKenna would have about a 91% probability of winning an election held in October. Here's the picture: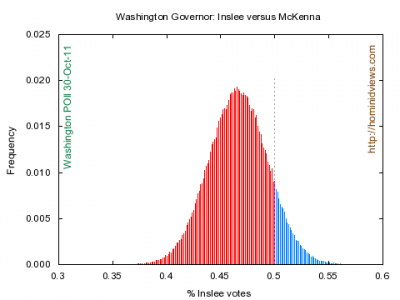 By a traditional statistical assessment, McKenna's lead is not "significant," in that he doesn't break the 95% threshold. Still…McKenna would be the likely winner. He was also leading Inslee by 34% to 38% in a late September SurveyUSA poll (and one other partisan poll as well.)
As Eli Sanders points out, there is a bright side for Inslee. He has cut into McKenna's support in the Puget Sound region:
While September's KING 5/Survey USA poll showed Inslee running dead even with McKenna in the Puget Sound region (a terrible sign for Inslee's chances of pulling out a statewide victory), yesterday's Washington Poll showed Inslee up by five points among Puget Sound voters.
I would add that in the poll before that by SurveyUSA poll, Inslee led McKenna. McKenna still had 44%, but Inslee had 47%. The difference is that only 9% were undecided. (And Inslee led by 7% points in "metro Seattle.")
The evidence is too weak for any certainty, but taken together, the trend looks like Inslee gains over McKenna (particularly in the Puget sound region) when undecided voters make up their minds.