A new poll has been released in the Washington state gubernatorial contest. The poll, conducted by SurveyUSA for KING 5, shows AG Rob McKenna (R) leading Rep. Jay Inslee (D-WA-01) 46% to 43%, with 11% undecided. The poll surveyed 617 registered voters and has a margin of error of 4%.
A Monte Carlo analysis simulating a million elections using these poll results gives the election to McKenna 707,667 times and Inslee 281,715 times. These results suggest that, if the election was held now, McKenna would have a 71.5% probability of winning and Inslee would win with a 28.5% probability. Here is the distribution of electoral votes from the simulated elections [FAQ]: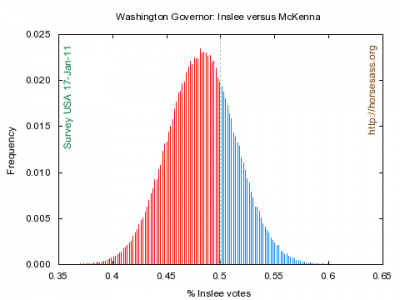 Today's result makes the fourth consecutive poll that finds McKenna in the lead. A Survey USA poll taken from Nov. 21 to 23 of last year showed McKenna leading Inslee 44% to 38%. (I completely missed that poll until it was old news, so I have no post for it, but the Monte Carlo analysis gives McKenna an 88% chance of winning to Inslee's 12% chance, had an election be held then.)
An October Washington Poll poll gave McKenna a 43.9% to 38.4% lead. Before that, a September Survey USA poll had McKenna up 44% to 38%. In fact, we have to go all the way back to a June Survey USA poll to find Inslee leading McKenna, 47% to 44%.
At this point it is undeniable that McKenna is the frontrunner. It isn't inevitable that we will have a Republican Governor next year, but that's what the polls have been saying for almost half a year….
The most recent analysis for the Inslee—McKenna race can be found here.