Elway released a new poll today for the Washington state gubernatorial race between A.G. Rob McKenna (R) and Rep. Jay Inslee (D-WA-01). The poll surveyed 405 registered voters (M.O.E. 5%) and was conducted from the 7th to the 9th of February.
The poll found that, out of those 405 voters, McKenna leads Inslee 45% to 36%, with 20% undecided. Of the 328 "decided" voters, 55.5% selected McKenna and 44.5% selected Inslee.
A Monte Carlo analysis of a million simulated elections [FAQ] using the observed percentages gave McKenna 918,606 wins to Inslee's 75,709 wins. The analysis suggests that, if the election had been held this past week, McKenna would have a 92.4% probability of winning, and Inslee a 7.6% probability of winning.
Here is the distribution of electoral outcomes from the simulated elections: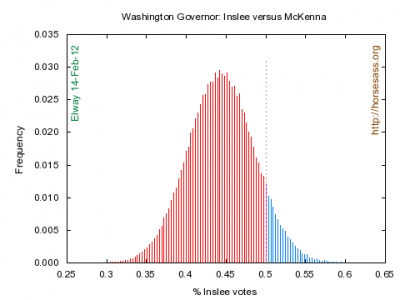 This makes the fifth poll in a row that McKenna has led Inslee—his lead can no longer be explained by chance. The previous poll, taken in mid-January, had McKenna leading Inslee 46% to 43% and with a 71.5% probability of beating Inslee. In fact, Inslee last led in a SurveyUSA poll taken last June.
The most recent analysis for the Inslee—McKenna race can be found here.