A new SurveyUSA poll (for King 5) has been released in the gubernatorial race between Rep. Jay Inslee (D) and AG Rob McKenna (R). The poll of 630 registered Washington voters (4% MOE) has McKenna up by a hair: 42% to Inslee's 41%.
A Monte Carlo analysis of the poll results that used a million simulated elections found that Inslee won 413,294 times and McKenna won 573,952 times. This suggests that, if the election was held today, McKenna would be the winner with a 58.1% probability and Inslee would win with a 41.9% probability. Here is the distribution of election outcomes from the simulations: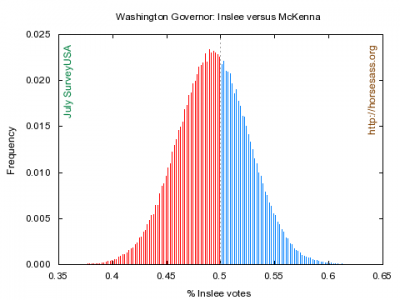 The new poll is a small improvement for Inslee, who was down by -2% and -3% in a pair of overlapping mid-June polls. The combined analysis of those two polls gave McKenna a 79.1% probability of beating Inslee in an election held in June.
Here is the polling history in the race to date: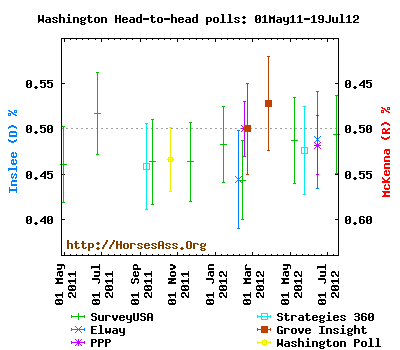 Although the race has tightened up considerably since last fall, the graph suggests that McKenna still maintains a narrow, but real, edge in the race.