Just yesterday, we had a Survey USA poll to analyze in the Washington state gubernatorial contest between former Congressman Jay Inslee and Washington state AG Rob McKenna.
An now we have another poll, this one from Public Policy Polling (PPP) on behalf of the Washington Conservation Voters. The new poll is of 574 likely voters taken from October 15 to 16. The poll has Inslee leading McKenna 48% to 42%. The +5% for Inslee bests the +3% we saw yesterday.
A Monte Carlo analysis using 1,000,000 simulated elections using the new poll result gives Inslee 853,506 wins and McKenna 139,477 wins. The analysis suggests that if the election was held today, we'd expect to see Inslee come out on top 86% of the time. Here is the distribution of election outcomes: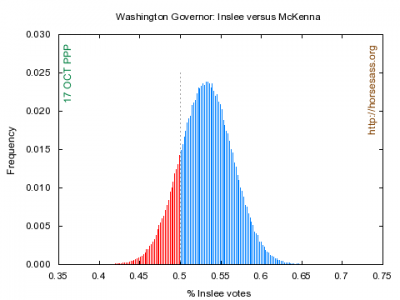 The Survey USA poll I mentioned yesterday was in the field from the 12th to the 14th of October, so it makes sense to combine these two polls as one covering the 12th through the 16th.
The Monte Carlo analysis is now working with a total of 1,117 individuals of which 531 (47.5%) selected Inslee and 480 (43.0%) selected McKenna. In the simulations Inslee wins 865,961 times. McKenna wins 128,942 times. So, in our election covering the 12th through the 16th, Inslee takes 87.0% and McKenna 13.0%. Not much difference from the PPP poll alone, really. Here's the distribution of election results: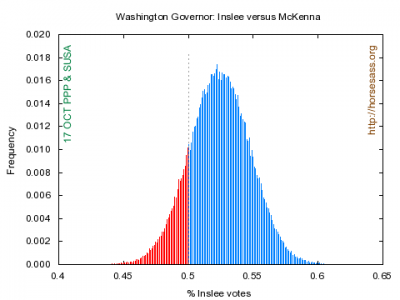 The new PPP Poll gives Inslee eight consecutive polls in which he is ahead of McKenna, a streak that dates back to mid-July.
As it happens, there will be a new Washington Poll released tomorrow afternoon that should have even more insight into the gubernatorial race and some of the other down-ballot races and measures. Stay tuned….