A new poll has been released for the Washington state gubernatorial contest. The Survey USA poll finds former WA-1 Congressman Jay Inslee leading Washington state AG Rob McKenna by 47% to 44%. The poll of 543 people (MOE 4.3) was taken from 12th to the 14th of October. The poll was commissioned by KING 5.
This new one makes seven consecutive polls in which Inslee leads McKenna, a streak that dates back to mid-July.
A Monte Carlo analysis with a million simulated elections using the newest poll results gives Inslee 692,593 wins to McKenna's 296,697 wins. This suggests that, if the election was held today, Inslee would win with a 70% probability, and McKenna with a 30% chance. Here is the distribution of election outcomes from the simulation: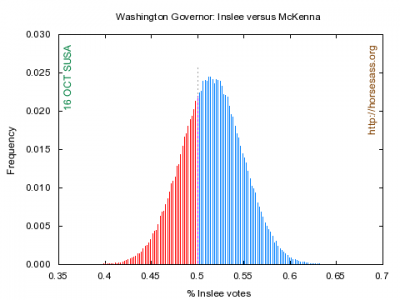 Inslee's lead is not significant by standard statistical inference. Even so, the longer trajectory facilitates understanding of the state of this race: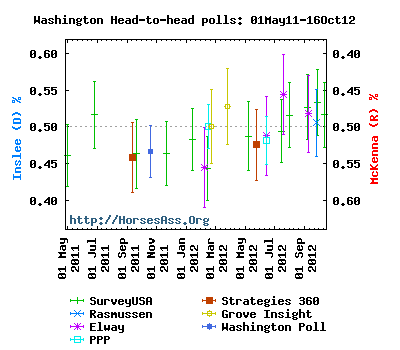 Clearly, Inslee maintains a small, but consistent, lead in the race.
And given what a snoozer the debates have been, don't expect any big changes in the standings.