A new poll was released today in the race between Rep. Jay Inslee (D-WA-1) and state AG Rob McKenna (R). The poll of 500 "Washington registered voters who are likely to vote in the November…election" was taken from 21 to 23 February. The margin of error is 4.4%.
The poll shows the candidate's favorable/unfavorables about tied at 33%/21% for Inslee and 33%/20% for McKenna. Here is the key result: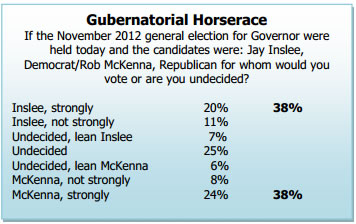 This makes the second consecutive poll showing the race a tie. A PPP poll taken a few days earlier had the candidates tied at 42%. A SurveyUSA poll taken a week earlier had McKenna leading Inslee 49% to 39%.
The polling history for this race shows that McKenna held a solid lead in the fall of 2011 that lasted into mid-February 2012.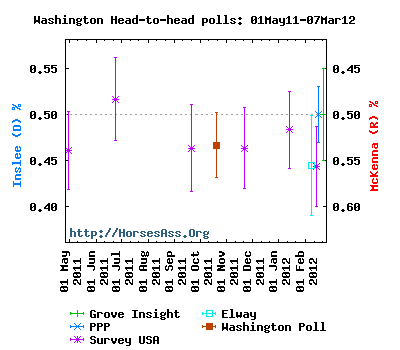 The three most recent polls in this race are nearly contiguous, covering a period from the 13th to the 23rd of February with only a 2 day gap between the two most recent polls. Therefore, I've pooled them to give a snapshot of the race for the second half of February. This yields a sample of 2,336 "votes" of which 1,945 go to either McKenna or Inslee. McKenna leads Inslee 42.9% to 40.4%.
A Monte Carlo analysis of a million simulated elections using this sample yields 179,027 wins for Inslee and 817,061 wins for McKenna. The results suggest that, if the election had been held during the second half of February, McKenna would have won with an 82% probability and Inslee would have won with an 18% probability. Here is the distribution of election outcomes: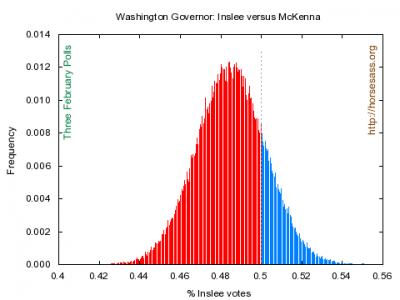 The analysis does not, of course, consider the trend over the last three polls. The two most recent polls must give Inslee supporters a big sigh of relief and some hope in what was shaping up to be a certain victory for McKenna.
[The most recent analysis for this race is here]