SurveyUSA has released new poll results for the King County Executive race. The poll has Dow Constantine trailing Susan Hutchinson by 43.6% to 46.7%, with 9.7% still undecided:
Hutchison…leads 2:1 among Republicans, conservatives, and those who are not college graduates. Constantine…leads by more nearly 3:1 among liberals and by nearly 2:1 among Democrats.
The poll, taken from 1 September to 3 September, surveyed 557 likely King County voters, giving a ±4.2% margin of error. The difference between the two percentages is not statistically significant—that is, the result is a statistical tie.
Even so, we can explore a what would happen if the election was held today. A Monte Carlo analysis of a million simulated elections, using the observed preferences, and a population of 557 voters, gives Hutchinson 696,575 wins, and Constantine 292,554 wins. In other words, for an election held now, we would expect Hutchinson to have a 70.4% probability of winning. This graph shows the distribution of outcomes from the simulated elections: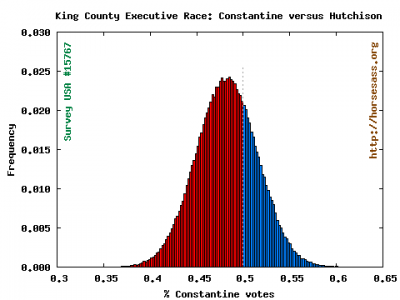 Fresh on the heels of the primary, public opinion has two months to evolve until the November election. The process, so far, has mostly favored Hutchison, as she has the most name recognition, and was the only female in the contest. For many voters, Constantine is that guy who came out on top in the pack of guys. It will be interesting to see how the undecided 10% break, and what happens as Constantine gets better name and position recognition.
For now, consider this the score for the first few minutes of the first quarter of the game….