Looks like admitted lair and alleged campaign fraudster Tim "Biggest Lie of My Life" Eyman is going to get a close-n-personal tour of our criminal justice system:
Attorney General Bob Ferguson on Wednesday asked a Snohomish County Superior Court judge to hold Tim Eyman and his political committees in contempt for failing to turn over documents in as part of an investigation into the initiative promoter's campaign finance practices.

Ferguson said he was also seeking a similar ruling from a Thurston County judge against signature gathering firm Citizen Solutions, saying that both Eyman and his committees have failed to meet a court-ordered deadline for disclosing the documents.

"Despite a subpoena and a court order, Tim Eyman continues to impede this investigation," Ferguson said. "That's unacceptable."
Or…at least be fined $2000/day for every day he doesn't turn over the subpoenaed documents.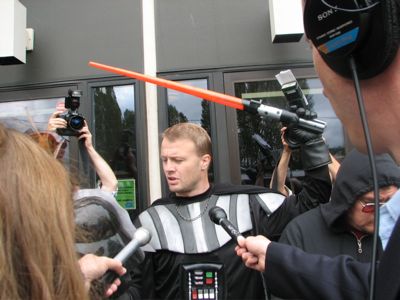 I don't know about you, but I'd settle for knocking a week or two off his sentence if he agreed to be frogmarched in his Darth Vader getup.