Yeeeeeeeeeee haaaaaaawwwwww! It's Crazy Train time. We have ourselves another episode of Candidate Roller Derby tonight in Iowa.
Yesterday everyone said The Newt was leading. Today Romney has a slight lead—they are tied statistically at Romney 23%, Gingrich 20%.
And how 'bout that Ron Paul at 18%!?! Most of the other nutberger candidates have had their fling with the pole position…Ron Paul should get his shot, too. And to top the whole thing off like a layer of creamy chocolate frosting, we should get Rick Santorum next week.
Unless The Donald comes back from the dead to do a 27 December debate, this one is the last of the year, and the last before the Iowa caucus. It's gong to be fun.
I'll leave some updates if anything fun happens.
The debate is sponsored by FAUX news, so you can be sure this will be the bestest, craziest debate ever…in the history of debates. You can find a link to the stream at FAUX News.
6:04: I've saved a bag of Cheetos for this debate. Mmmm, Cheetos. Before the debate is through, my fingers will resemble John Boehner's.
6:05: The Newt argues his electability by giving the audience a history lesson.
6:07: Megyn Kelly tries suckering Ron Paul into making a commitment to support the ultimate Republican nominee. Will he fall for it? No! And he gets a pass!
6:09: Rick Santorum takes the first shot at Newt's "personal issues".
6:12: Come on, Michele…just say it. "I will win the independents by hypnotizing them."
6:13: Rick Perry is asked about his debating skills and launches into a "things I did while not debating" speech.
6:14: Jon Huntsman, "we're getting screwed as Americans!" Umm…Santorum? Any comment?
6:16: Note to Rick Perry: The Supercommittee was created by and for Congress, not Obama.
6:18: Mitt just admitted that "there are Democrats who love America." He's toast now.
6:19: "Leadership is important," says Newt, the ousted former House leader.
6:21: The moderators are taking questions by Twitter. Fine print: No more than 140 characters and minimize polysyllabic words.
6:25: The intermission pundits are bored by the civility. They want some blood! Yeah…me, too.
6:27: Mitt defends his business failures by saying Obama doesn't realize that not every business succeeds. I take it Mitt is okay with the Solyndrra thing then.
6:29: Newt worked with Habitat for Humanity. No doubt served as their official Speaker of the House.
6:31: Paul corners Newt who is forced to admit that there are many government-sponsored organizations that do good! Heresy!
6:33: Bachmann goes into histrionics over Newt's Fannie/Freddy contracts. Newt says Bachmann doesn't have her fact right. Bachmann goes to Politifact for fact checking! Remarkable.
6:36: My video feed locked up with the following image stuck on my screen. I think this is worthy of a Caption Contest. Leave 'em in the comment thread.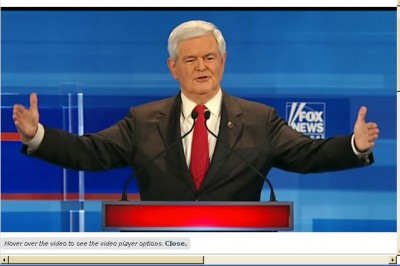 6:45: Okay…missed some stuff trying to get the video feed back and waiting through the fucking ads. We're back now.
6:46: Did Rick Santorum just say he will repeal every single EPA regulation?!?
6:47: Mitt Romney Flip Flops! He criticizes Obama over Solyndrra, just 20 minutes after pointing out that some of his businesses failed, and that was okay.
6:48: "The courts have become grotesquely dictatorial." and "Misreading the American people." I thought they were supposed to read the Constitution rather than the people.
6:51: Bachmann: "We are now at the point that we think the final arbiter of the law is the courts."
6:53: Even Ron Paul isn't crazy enough to do a witch-hunt on the courts (subpoena judges, eliminate courts).
6:54: Mitt: "The only people that have less credibility than Judges is Congress."
6:56: Santorum's certifies his extremism by picking Thomas as his single favorite Justice.
7:05: Ron Paul suggests using diplomats a little more, bombs a little less. Totally sensible.
7:07: Santorum suggests that Iranian's "principle ideology", "mission" is martyrdom. What a fucking ignorant bigot.
7:09: Michele says Ron Paul has given the most dangerous answer she has ever heard.
7:15: Ron Paul schools some naive warmongers!
7:17: Newt suggests the UN is a terrorist training organization.
7:19: Rick Perry has the most muddled comment ever…something about "the most muddled foreign policy ever."
7:22: Newt gets in a super anti-Obama speech. He has some factual errors in the answer, but maybe this is what we need for him to take the primary. GO NEWT!
7:26: I am totally lost by Neil Cavuto's rambling question to Rick Perry. Rick Perry spews an incoherent, rambling answer back. Nice play, Mr. Perry!
7:40: Wallace ask Mitt if he is a flip-flopper.
7:41: Mitt admits he flip-flopped on gay rights and choice. Ohhh…and maybe guns.
7:43: Santorum: "Mitt Romney, personally, as Governor, issued gay marriage licenses!!!" You could just hear Santorum's anal sphincter clamping shut as he said that.
7:47: Bachmann: "Newt offered to campaign for Republicans who support…partial birth abortion!"
7:49: Michele Bachmann doesn't have her facts right. And she misspells her first name.
7:50: The Occupy FAUX movement has arrived!
7:51: Rick Perry corrected a fact of a moderator!
7:54: Ron Paul twists his face into a little pretzel and says, "I don't like the demagoguery…the distortions."
7:55: That's it!